Market's Focus Turns to Kuroda's Plan for 2018
By
All 44 economists surveyed expect no policy change on Thursday

Kuroda is widely expected to get another five-year term at BOJ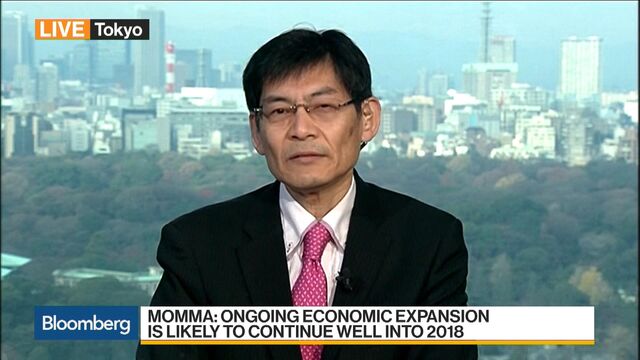 The Bank of Japan is expected to keep monetary stimulus unchanged when its board meeting concludes in Tokyo on Thursday, closing out the quietest year for policy since Governor Haruhiko Kuroda took the helm in 2013.
The focus will be on where the BOJ is headed in 2018, with great interest in the possibility of policy change, and whether Kuroda drops any hints about the likelihood of him staying on as governor after his current term ends in April.
The BOJ policy statement typically comes out early afternoon, followed by a press conference by Kuroda at 3:30 p.m.
Key Points
| What to look for | Why |
| --- | --- |
| Remarks on the prospect for policy adjustment | A Bloomberg survey showed more than a third of economists predict the central bank will raise its target for 10-year bond yields next year from the current level of about 0 percent. A smaller number see the BOJ increasing the policy balance rate from -0.1 percent. |
| Hints on the pace of bond purchases | The central bank has been undershooting its guideline of increasing bond holdings by 80 trillion yen ($710 billion) a year, and this is seen as likely to be even slower in 2018. |
| Anything from dissenting board member | The dissent of new board member Goushi Kataoka has prompted the BOJ to tweak its messaging. Even though he's the only dissenter, any further step from him will be of interest.   |
Read more: The story on Bloomberg's BOJ policy survey.
Investors will be watching the general tone of Kuroda's remarks for signs of improvement in the inflationary environment and how far away the BOJ sees its 2 percent price target. While a majority of economists forecast the BOJ will maintain the status quo through the next year, talk of policy change is increasing among observers. 
Kuroda's comments last month on the "reversal rate" theory stoked speculation about an earlier policy exit. The theory posits that monetary stimulus could end up hurting commercial banks' profitability, making them less likely to lend. Any further comments by Kuroda on the theory will receive intense scrutiny.
What "reversal rate" theory means for BOJ communications.

Click here for a BOJ preview from Bloomberg Economics.
Policy Recap
Key elements of the BOJ's monetary stimulus policy, which are expected to remain unchanged on Thursday:
Negative interest rate of minus 0.1 percent charged on some of the money financial institutions keep at the BOJ.
Yield target of about 0 percent for 10-year Japanese government bonds.
Guideline for the BOJ's JGB holdings to increase by about 80 trillion yen a year. (In reality, it dropped to about 61 trillion yen in the 12 months through November.)
Purchasing exchange traded funds so holdings rise by 6 trillion yen a year, and buying Japanese real estate investment trusts to raise these holdings by 90 billion yen annually.
Before it's here, it's on the Bloomberg Terminal.
LEARN MORE