HNA Suffers Another Setback as New Zealand Blocks Deal
By
Regulator couldn't determine who controlled Chinese company

HNA had sought approval to buy ANZ Bank's asset-finance unit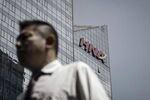 HNA Group Co.'s acquisition of Australia & New Zealand Banking Group Ltd.'s asset-finance business in New Zealand has been rejected by regulators because of its opaque ownership structure, another setback for the acquisitive Chinese conglomerate that has come under worldwide scrutiny.
New Zealand's Overseas Investment Office didn't determine who the relevant overseas person was from the information provided about ownership and control interests, it said in a statement Thursday. HNA in July said it was controlled by two charities based in New York and Hainan, while 12 company officials including founders Chen Feng and Wang Jian hold stakes.
While the sale agreement remains in place, the deal won't proceed unless HNA successfully appeals the regulator's decision, ANZ New Zealand Chief Executive Officer David Hisco said in a statement Thursday.
HNA said it was disappointed by the decision, and that the "current political environment in New Zealand" over foreign investment will play "a significant role" in its response.
The recently elected government led by Jacinda Ardern is banning the sale of residential homes to foreigners, and has tightened rules around purchases of rural land. While the new rules don't affect the sale of business assets, the nationalist New Zealand First Party, which is in coalition with Ardern's Labour, has voiced its opposition to the UDC deal.
HNA, founded in 1993 as a regional airline, has come under scrutiny after a debt-fueled $40 billion acquisition spree across six continents, putting it at the center of China's crackdown on the country's most prolific overseas dealmakers.
Read more: The mysterious Chinese company worrying the world
HNA agreed to buy UDC, ANZ Bank's New Zealand asset-finance unit, for about NZ$660 million ($461 million) in January 2017. Under CEO Shayne Elliott, Melbourne-based ANZ Bank is offloading unwanted assets, most recently selling its life insurance businesses to Zurich Insurance Group AG for A$2.85 billion ($2.2 billion) last week.
When the UDC agreement was announced, ANZ said it would book a net gain of about A$100 million on the sale and its common equity Tier 1 ratio would improve by about 10 basis points.
The lender today said there's no immediate requirement to do anything about UDC given the strength of its capital position. "UDC continues to be a highly profitable and strong business, with great staff and customers, and a growing loan portfolio across a range of industries," ANZ Bank said.
ANZ shares fell 4 cents to A$29.02 at 12:09 p.m. in Sydney trading, taking this year's decline to 4.6 percent.
Before it's here, it's on the Bloomberg Terminal.
LEARN MORE