technology
Young Britons Spend a Third of Their Leisure Time on a Device
By
Mobile phones, tablets occupy 14 hours a week for under 25s

Study finds Britons spend less time being active, sociable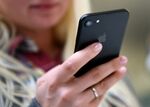 Ever wondered how much time millennials spend staring at a screen? U.K. statisticians have come up with some answers.
Young people spent more than a third of their leisure time -– around 14 hours per week -– using devices such as mobile phones, tablets, e-readers and laptops in 2015, the Office for National Statistics said in note published Tuesday. The figure for men aged 25 and under was 35 percent; for women, it was 29 percent.

Unsurprisingly, technology occupied far less of their parents' time, with the figure for those age 56 and over falling to around 10 percent. The high use of devices among young people is partly explained by their heavy use of social media, the ONS said.
One question raised by the analysis is whether there is a cost to personal well-being. Compared with 2000, people in 2015 spent less of their leisure time on activities like sports and cultural pursuits, with those aged between 46 and 55 recording the biggest decline.

Britons were also less sociable, spending on average around six of their roughly 40 hours of leisure time in the company of other people. That's a decline of 13 percent since 2000. 
"It's possible that with increased device use, people are becoming less likely to go out of their way to meet up and socialize," the ONS said. "Easy internet access enables people to talk to friends via social media apps, but they're still doing so alone."
Before it's here, it's on the Bloomberg Terminal.
LEARN MORE