Uber Loses Bid to Lock Taxi Drivers Out of London License Appeal
By
GMB and LTDA unions can take part in appeal, judge rules

Appeal of TfL's decision to ban Uber set for June 25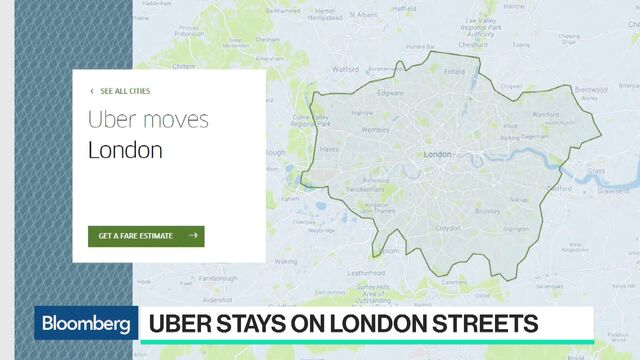 Uber Technologies Inc. lost a bid to prevent two unions representing taxi drivers from taking part in the appeal of Transport for London's decision to ban the company from operating in the city.
The GMB union and the Licensed Taxi Drivers' Association can take part in the appeal on a limited basis, Judge Emma Arbuthnot ruled at a London hearing Tuesday. The five-day hearing will start on June 25, she said.
The London fight over the company's right to pickup passengers is one of many legal battles Uber faces in Europe. On Wednesday, the European Union's top court will issue a closely-watched ruling on whether Uber should be considered a taxi company or a digital app provider for regulatory purposes.
GMB will be allowed to make submissions on issues surrounding the health and safety of Uber's drivers, where the company's business model "encourages and incentivises drivers to work excessive hours, putting public safety at serious risk," lawyers for the union said.
LTDA's role in the appeal will be more clearly defined once TfL has decided on the scope of its arguments ahead of the trial. But the group, which represents drivers of London's iconic black cabs, can't argue that Uber's operating model is illegal, Arbuthnot said.
A spokesman for Uber declined to comment after the decision. The unions didn't immediately respond to requests to comment.
The decision leaves more than six months for the transport regulator and Uber to reach an agreement on the license to operate -- a resolution both sides have expressed a desire to reach.
The appeal will have important implications for Uber's business. London is the company's largest market outside the U.S., and a loss of its license or change to its labor rules could hurt attempts by the company, which is losing billions of dollars a year, to become profitable.
Before it's here, it's on the Bloomberg Terminal.
LEARN MORE