markets
Only Thing Yen Experts Agree On Is U.S. Rates Will Drive It
By and
Forecasts range from 105 to 120 yen per dollar for end of 2018

Key question is whether Fed hikes 4 times next year, or only 3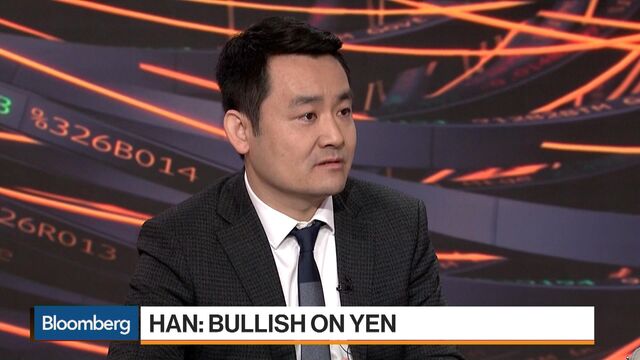 Yen analysts in Tokyo pretty much agree: the outlook for U.S. economic growth and interest rates will determine where Japan's currency goes next year. And that's where the consensus ends.
As with U.S. economists, Japanese currency strategists are divided on whether a strong American job market will propel inflationary pressures that finally send 10-year Treasury yields climbing. If they do, a widening U.S. yield advantage is seen lifting the dollar. Another year of disappointment would bring a stronger yen. A survey of nine forecasters by Bloomberg showed estimates ranging from 105 to 120 yen per dollar for year-end 2018. The exchange rate was at 113.14 on Wednesday.

"The biggest focus is whether the U.S. economy can keep the trend that justifies several more rate increases in 2018," said Daisaku Ueno, chief currency strategist at Mitsubishi UFJ Morgan Stanley Securities Co. in Tokyo. With the yen "reined in by the Bank of Japan's easing," the dollar has a firm floor, with light upside resistance, he said.
BOJ monetary policy is seen unchanged by most economists through 2018, making the Fed and U.S. yields the lever that will move the yen next year. Some point out that steeper American rates may trigger a rapid move: the yen's real effective exchange rate remains weak and leveraged funds' bets against the currency are near decade highs, making it vulnerable to an unwinding of bearish positions.
The range of projections for 2018 almost matches the currency's actual range for 2017, which has been 107.32 to 118.60, in swings that have been closely correlated with 10-year Treasury yields.

Another U.S. concern to keep an eye on: the potential inversion of the Treasury yield curve, where two-year rates exceed those on 10-year notes. That's happened before American recessions over the past few decades, and could spook U.S. stocks, and the dollar. The spread between the two is at 60 basis points, having fallen from as high as 137 basis points last December.
"There is no upside to dollar-yen when U.S. yields are struggling to rise," said Daisuke Karakama, chief market economist at Mizuho Bank in Tokyo. "A flattening curve raises risks of an inversion, and stock declines."

U.S. monetary tightening has done little to help the dollar in 2017, with the greenback falling against all its Group-of-10 peers. Some say 2018 will be no different.
"The environment will likely be more or less the same," said Tohru Sasaki, head of Japan markets research at JPMorgan Chase & Co. "A solid economy and low volatility made the greenback a funding currency."
Analyst
Dollar-yen end-2018
Forecast
Comments
Taisuke Tanaka,
chief currency strategist/head of fixed-income research,
Deutsche Securities
120
Seven Fed rate hikes seen over 2018-19; dollar capped by concern the "Goldilocks" scenario of growth with low inflation can't last
Yunosuke Ikeda
head of Japan foreign-exchange research,
Nomura Holdings
120
Key question is whether Fed raises four times in 2018, or only three
Daisaku Ueno
chief currency strategist,
Mitsubishi UFJ Morgan Stanley Securities 
119
U.S. monetary-policy normalization will see the dollar rise
Masashi Murata
currency strategist,
Brown Brothers Harriman 
118 (End-Sept.)
Flattening U.S. curve may signal slowdown, but it will take time for a recession to happen
Osamu Takashima,
head of G-10 FX strategy, Japan, at Citigroup
113
Flatter U.S. yield curve may spur Japanese to forgo currency hedging
Tohru Sasaki
head of Japan markets research, JPMorgan Chase
112
Dollar weakness to continue
Shuji Shirota
head of macroeconomic strategy group, HSBC Securities Japan 
108
Limits to BOJ bond buying will become clear
Minori Uchida
head of global market research, Bank of Tokyo-Mitsubishi UFJ
107
BOJ might let longer-term Japanese yields edge higher
Daisuke Karakama
chief market economist, Mizuho Bank
105
Slower Japanese investment overseas helps give the yen an appreciation bias
(
Updates prices in second paragraph, yield spread in sixth.
)
Before it's here, it's on the Bloomberg Terminal.
LEARN MORE