Scarred South Africa Turns to Mandela Favorite
By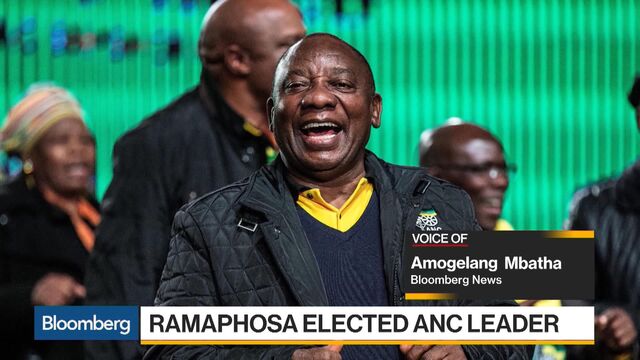 Want to receive this post in your inbox every morning? Sign up for the Balance of Power newsletter, and follow Bloomberg Politics on Twitter and Facebook for more.
Cyril Ramaphosa wiped tears from his eyes moments after his election as leader of South Africa's ruling party — a reflection of his arduous journey to the pinnacle of power and possibly of what lies ahead.
Many South Africans are relieved at the prospect of one of their brightest political minds possibly replacing the scandal-plagued president, Jacob Zuma. But the final step won't be easy. To capture the presidency, Ramaphosa would need Zuma to step down voluntarily or to be ordered out by the fractious African National Congress.
And then there's Zuma's mess. The economy is moribund, one in four people are out of work, corruption riddles state institutions, and a divided ruling party faces a real threat of losing power in 2019 elections.
But don't count Ramaphosa out.
The man who became the ANC's top negotiator in talks to end apartheid is nothing if not resilient. After the party blocked his bid to succeed Nelson Mandela — even though he was Mandela's preferred heir — he went into business to become one of the richest black South Africans. And just to win the ANC presidency, he had to beat Zuma's candidate — his ex-wife — a feat few thought possible.

Global Headlines
U.S. tax endgame | Major tax legislation could be on its way to U.S. President Donald Trump's desk within hours after Republicans appeared to lock in the support they need. A House vote is scheduled for today, with Senate action likely not far behind. Moderate Maine Senator Susan Collins's backing has all but guaranteed Republicans a much-needed win before year's end, even as the legislation becomes a potential battleground for the 2018 midterms.
Trump criticizes Moscow | Trump unveiled his first national security strategy by branding Russia and China "rival powers" that he'd seek ways to partner with. In one of his administration's strongest statements against Russia, the document blasted President Vladimir Putin's government for interfering in the domestic affairs of "countries around the world," but stopped short of saying it meddled in the 2016 election. China called the speech "contradictory."
Countering North Korea | The U.S. officially blamed Kim Jong Un's regime for infecting hundreds of thousands of computers across the globe this year with WannaCry ransomware, giving it more leverage to pressure other nations into fighting North Korea's cyber army. Japan meanwhile approved the purchase of two Aegis Ashore ballistic missile-defense batteries today, adding protection against Kim's rockets.
Wielding a veto | U.S. Ambassador Nikki Haley blocked a United Nations Security Council resolution asking countries not to establish diplomatic missions in Jerusalem, saying the U.S. "will not be told by any country where we can put our embassy." It was the first U.S. veto since 2011 and marks the latest chapter in the fallout from Trump's decision to recognize Jerusalem as the Israeli capital.
Catalonia in turmoil | While Spanish Prime Minister Mariano Rajoy sought to halt political chaos in Catalonia by forcing a snap election, the result of Thursday's vote there may kick off a new phase of upheaval. With no clear winner and mutual resentment increasing, separatists from Edinburgh to Venice are watching closely.
And finally… From Brexit and Trump's first year in office, to the crisis in Venezuela and rising tension on the Korean peninsula, don't miss our round-up of the year's best photos in global politics.

— With assistance by Daniel Ten Kate
Before it's here, it's on the Bloomberg Terminal.
LEARN MORE