Sanctions Jury Must Decide If Turkish Banker Is Pawn or Criminal
By
Prosecutors, defense lawyers give closing arguments at trial

Manhattan jury must choose between dueling portraits of Atilla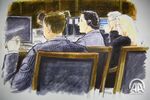 The fate of a Turkish banker accused of conspiring to help Iran evade U.S. financial sanctions will soon rest with a U.S. jury, which must choose between dueling portrayals of him as either the architect of an international money-laundering scheme or a "pawn" in the wrong place at the wrong time.
After more than three weeks of evidence, prosecutors and defense lawyers on Tuesday delivered their final pleas in the trial of Mehmet Hakan Atilla, a 47-year-old executive at Turkiye Bank Halkasi AS, a large state-owned Turkish bank that U.S. authorities allege was the focus of the plot to aid Iran. Jurors in Manhattan federal court are scheduled to begin deliberating Wednesday.
Atilla is accused of trying to help Iran tap billions of dollars in revenue from overseas oil sales from 2012 to 2016 that should have been beyond its reach, as the U.S. increasingly tightened sanctions on the country in retaliation for its nuclear development program and in an effort to force it to the negotiating table.
"It's impossible to believe Mr. Atilla had any doubt about what was going on at his bank," U.S. prosecutor, Michael Lockard, said in urging jurors to find him guilty of conspiracy, money laundering and bank fraud. "Mr. Atilla is guilty of the offenses he's charged with."
Nine people have been charged, including other Halkbank executives and Turkish government officials, but Atilla was the only one on trial. Iranian-Turkish gold trader Reza Zarrab, who was once the chief defendant, pleaded guilty and testified against Atilla in a bid for leniency. The other defendants have avoided U.S. arrest.
Turkish Banker Declares Innocence at U.S. Sanctions Trial
Atilla's lawyer, Victor Rocco, called the case "the Reza Zarrab show," saying prosecutors had presented extensive evidence about the involvement of Zarrab and others but not enough to convincingly connect Atilla to the scheme.
During seven days on the witness stand, Zarrab repeatedly implicated Atilla, placing him in meetings where the sanctions-evasion plans were discussed and saying Atilla devised key portions. Prosecutors also introduced wiretapped phone calls in which Zarrab and others discussed Atilla's alleged role.
Still, Atilla was at times a seemingly peripheral figure, and much of the government's evidence against him was circumstantial. The U.S. relied heavily on Zarrab, who acknowledged lying to Atilla in some instances and admitted that Atilla didn't know the full details of the conspiracy. In some wiretapped phone calls played for jurors, Zarrab complained that Atilla blocked transactions or inhibited the plot.
The defense also assailed Zarrab as a liar.
Wiretapped Calls
But prosecutors pointed to at least six wiretapped calls directly between Atilla and Zarrab as corroborating evidence. In one of them -- about the need to make sure customs forms used to cover up transactions looked legitimate -- Atilla is heard saying to Zarrab, "Tell your guys to make sure the numbers match."
Atilla took the unusual step of testifying in his own defense, saying Zarrab lied about his presence at meetings, and he denied any involvement.
"The decision to take the witness stand by a defendant in a criminal case is not the act of a guilty man," Rocco said. "It is the act of a man who believes he's innocent and wants to proclaim his innocence to the entire world."
The case is U.S. v. Atilla, 15-cr-867, U.S. District Court, Southern District of New York (Manhattan).
Before it's here, it's on the Bloomberg Terminal.
LEARN MORE