Republicans Push to Extend NSA Surveillance Expiring This Month
By and
'It would be a combination' of pending proposals, Nunes says

Senators say any extension of current law should be for weeks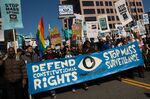 Legislation to extend a major U.S. surveillance program that's about to expire was being hashed out by Senate and House leaders, and details could be presented by Tuesday night, according to House Intelligence Committee Chairman Devin Nunes.
"It would be a combination" of pending proposals, Nunes of California told reporters. There are five proposals, including separate measures approved by the House Judiciary and Intelligence panels as well as versions offered in the Senate.
The Rules Committee is expected to announce a hearing for Wednesday or Thursday for a measure that would be moved to the House floor as a standalone bill, according to an official familiar with the plans who asked not to be identified discussing the evolving plan. Congress is seeking to resolve the issue this week ahead of its year-end holiday break.
At issue is how -- or whether -- to renew Section 702 of the Foreign Intelligence Surveillance Act. The program, which is set to lapse at the end of this month, lets the National Security Agency intercept calls or emails from suspected foreign terrorists outside of the U.S.
The foreign spying program -- disclosed in 2013 by former NSA contractor Edward Snowden --- is called invaluable by intelligence agencies.
Civil Liberties
But the program is criticized by civil liberties groups because the names of Americans can be captured if they come up in the communications and then can be found by intelligence agencies through database searches. Critics have said the FBI should be required to obtain court warrants to search data collected under the program in most cases.
If an agreement on a bill to renew the Section 702 authority can't be reached this week, officials familiar with the talks say a short-term extension of current law probably will be taken up.
Republican Tom Rooney of Florida, a member of the House Intelligence panel, said renewal of the surveillance program "needs to be debated by itself" on the floor, noting differences over issues including proposed restrictions on the power of officials to request "unmasking" the identity of Americans mentioned in intelligence reports. Republicans maintain that Obama administration officials may have abused their power to unmask the names of people close to Donald Trump during last year's presidential campaign.
Short-Term Extension
In the Senate, a bipartisan coalition of senators announced they would oppose any long-term extension without a full debate on the Senate floor, which they don't see as possible before next year.
Republican Senator Mike Lee of Utah said he could support an extension measured in weeks but that any debate should be kept separate from bills to keep the government open.
Intelligence officials have raised alarms about the prospect of letting the program lapse.
"It has become an indispensable tool by which we can determine and game information about threats to the United States, about threats to our troops, about weapons of mass destruction, proliferation, about cyberattacks -- about any number of things that threaten the American way and the American people," Director of National Intelligence Dan Coats said in October. "So the reauthorization of this authority is incredibly critical."
— With assistance by Chris Strohm
Before it's here, it's on the Bloomberg Terminal.
LEARN MORE