politics
Ramaphosa's Narrow ANC Win Reduces Chances of Quick Zuma Ouster
By , , and
South African President Zuma's allies secure top party posts

Deputy president may have to wait a bit longer to get top job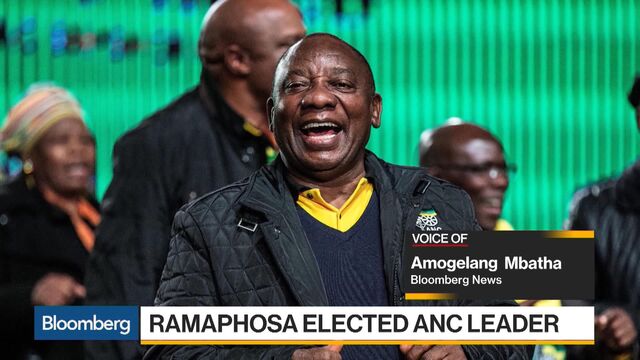 Cyril Ramaphosa's victory in a grueling battle to lead South Africa's ruling party may have been the easy part. His narrow win and his allies' failure to secure three other top posts is likely to delay his ascendancy to the nation's presidency and plans to revive a stuttering economy.
While Ramaphosa won 52 percent of the vote for the top post of the African National Congress, edging out Nkosazana Dlamini-Zuma, President Jacob Zuma's ex-wife, David Mabuza and Ace Magashule, who've been Zuma allies, took the positions of deputy president and secretary-general. Ramaphosa will be the party's presidential candidate in the 2019 elections, but the close race reduces the odds that he'll replace Zuma as the nation's leader soon.

"The balance of forces probably makes an immediate recall of President Zuma unlikely and therefore two centers of power will need to coexist for a period," Colin Coleman, head of sub-Saharan Africa at Goldman Sachs Group Inc., said in an emailed response to questions. "This will make decisive change more difficult to effect. "
Zuma's rule has been marred by scandal, alleged corruption and policy missteps that dragged down support for the ANC and cost it control of Johannesburg, the economic hub, and Pretoria, the capital, in last year's municipal elections. The 75-year-old president has fended off repeated calls to resign with the aid of his allies, including Mabuza and Magashule, who dominated the party's previous National Executive Committee.
"Most ANC members would not want to see Zuma being humiliated," Ralph Mathekga, an independent political analyst, said by phone. "The best Ramaphosa can do is to kindly ask Zuma to leave."
A who's who guide to the ANC's new leadership
Ramaphosa, 68, won't be able to act on his campaign pledges to boost the growth rate to 5 percent by 2023, restore investor confidence and tackle graft until he takes over the reins of government and appoints a new cabinet. Zuma has said he'll only step down early if the ANC tells him to.
While Mabuza previously aligned himself with Zuma, his support may have swung the election in Ramaphosa's favor and he could back a move against the former president.
Much depends on who's elected Tuesday or Wednesday to the 86-member National Executive Committee, the party's top decision-making body between conferences that are held every five years.
"For Cyril Ramaphosa's agenda to hold, especially because the top six is divided into two camps, he needs the backing of the NEC," said Mcebisi Ndletyana, a political science professor at the University of Johannesburg. "The NEC composition becomes very important. It determines whether or not he succeeds or fails."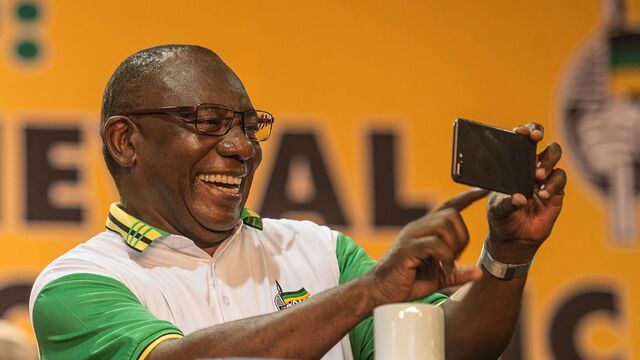 Ramaphosa downplayed the impact of divisions among senior party officials.
"The leadership that has been chosen is a unity leadership," he told reporters at the party's elective conference in Johannesburg. "It is a leadership that combines the different views and approaches that were prevalent prior to the election."
For now, the financial markets appear confident Ramaphosa can cement his control over the divided ruling party and the country. The rand has gained 7.4 percent against the dollar since the start of the month, the best performer of 16 major currencies monitored by Bloomberg.
Nicholas Spiro, a partner at London-based Lauressa Advisory Ltd., which advises asset managers, said the optimism may be overblown.
"Ramaphosa's victory is the best piece of news out of South Africa in years and the strongest repudiation of the Zuma regime," he said. "Yet winning the ANC leadership contest is one thing, rescuing a discredited party and ailing economy is quite another."
Coleman, at Goldman Sachs, said Ramaphosa's chances of putting the country back on track shouldn't be written off.
"Whilst a Ramaphosa clean sweep would have given him a freer hand to effect a decisive economic recovery, the outcome is still better than it otherwise could have been if he had not prevailed," Coleman said. "Do not underestimate his ability to navigate these choppy waters. He is a past master at negotiating difficulties."
— With assistance by Sam Mkokeli
Before it's here, it's on the Bloomberg Terminal.
LEARN MORE