markets
Pandora Says the Market Is Ignoring Its Potential
By
Colding Friis doesn't want to speculate about hedge fund bets

Pandora reviews reporting form to meet analyst wishes: CEO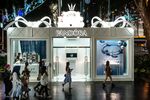 The chief executive officer of Pandora A/S, which has been under siege by hedge funds this year, says the market is ignoring the jewelry maker's growth potential. And to make sure investors get the message in future, management is looking into whether it can improve its communications.

"The developments in the share price have taken a lot of focus this year," CEO Anders Colding Friis told Bloomberg in an email. "Unfortunately, it seems the share price development has overshadowed the fact that Pandora on a business level has had a strong development."
Pandora Steps Up Communications Push After Analyst Complaints
"There are certain forces in the market that speculate against Pandora's share," he said. "It doesn't change anything for us as a company. We'll continue to work hard and purposefully to create value for Pandora and the shareholders."

Pandora lost almost a third of its value this year after hedge funds scaled up short bets based on speculation the U.S. retail market is in trouble. But analysts have largely stuck with their buy recommendations and high share valuations. That makes Copenhagen-based Pandora one of Europe's most undervalued stocks, based on average price targets.
Hedge Funds 'Call the Shots' on Pandora Amid Wild Share Moves
Short interest peaked at 12.8 percent of Pandora's share capital in November, according to data from IHS Markit. It's since slipped below 12 percent. In the beginning of 2017, short interest was around 1 percent. Some funds have started to scale back their negative bets, and the Danish regulator on Tuesday said that AQR Capital Management had cut its short position to 1.99 percent from 2.09 percent previously, according to a regulatory filing.
According to filings to the Danish Financial Supervisory Authority, five hedge funds hold short positions that exceed 0.5 percent of Pandora's share capital.
Pandora's shares have fallen even as the company has met market expectations. On average over the past six quarters, net income has beaten analyst estimates by 1.1 percent, while revenue has missed estimates by 1 percent, according to data compiled by Bloomberg. If you add up the share price declines investors swallowed on each of those earnings days, it comes to a combined 36.6 billion kroner ($5.8 billion), or almost a $1 billion in losses every earnings day for the last 1 1/2 years.
"It's not my job to assess whether the market has misunderstood us or not," Colding Friis said. "I'm employed to drive Pandora forward, and it's the job of the market to price our results."

While analysts covering Pandora on average see it as a good investment, some have criticized the company for not disclosing enough information on like-for-like sales and the timing of shipments. In a Nov. 14 note, Carnegie said "poor disclosure" makes the stock "uninvestable to many."
"We listen to the feedback we receive from the outside, also from the analyst side, and we're constantly looking into whether we can fulfill all the wishes that come," the CEO said. "It's just not always possible to meet all wishes at once, especially when the wishes are conflicting."
"Having said that, we are continually investigating whether we can improve our reporting form, and we will also do so in the future," Colding Friis said.
The U.S. makes up about a fifth of Pandora's revenue. In the third quarter, U.S. sales grew by 4 percent, but the result was helped by Pandora's decision to introduce its Christmas collection earlier than last year. The U.S. market remains a challenge for Pandora and other retailers, Colding Friis said.
"In the coming year, we don't expect an improvement on that front, so we are prepared to operate under the current terms, as we did in 2017," the CEO said.
Pandora will hold a capital markets day on Jan. 16 and has said it will publish preliminary fourth-quarter sales data before then. The company is on track to "deliver the highest profits in Pandora's history" in 2017, the CEO said.
"We see good opportunities to grow further across geographic markets and to continue our journey towards becoming a complete jewelry brand," he said. "We also see challenges, but I feel that we are prepared for the tasks and situations that may arise along the way."
Before it's here, it's on the Bloomberg Terminal.
LEARN MORE