politics
Macron Says Syrian Refugees Won't Return With Assad in Power
By
'Realism' requires some role for Assad, but not indefinitely

Western allies did most of the work to defeat ISIS: Macron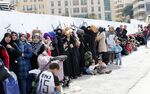 French President Emmanuel Macron said it's simply "realism" to accept that representatives of Syrian strongman Bashar al-Assad take part in talks seeking an end to the country's civil war, but that stability will never return if he stays in power.
Syrian refugees in Lebanon, Turkey and Jordan won't return home as long as Assad remains, Macron said in Paris after a meeting Tuesday with NATO Secretary General Jens Stoltenberg. "The millions of Syrians around the world have one enemy, and that's Assad," said Macron.
Russia, which has hosted talks on ending the Syrian war that have excluded Western countries, has indicated Assad could stay in power. Macron said that the "Astana process" promoted by Russia, Iran and Turkey isn't inclusive, and that the U.S., France, and their allies have done most of the work to defeat Islamic State while Russia and Assad mostly fought more moderate opponents.
"We need to put all the people around a table and create a political dynamic that respects pluralism," said Macron, who reiterated a comment he made Sunday that Islamic State would be defeated in Syria by the end of February.
Macron also said he saw a training role for the North Atlantic Treaty Organization in Syria after the war has ended.
"One of the best weapons against terrorism is building up local forces," Stoltenberg said, mentioning NATO's training missions in Iraq and Afghanistan.
Before it's here, it's on the Bloomberg Terminal.
LEARN MORE