Macron Says Now Not the Time for French Middle-East Peace Plan
By
Macron and Abdullah say they are still waiting for U.S. input

First half of 2018 will be 'crucial' for the region, they say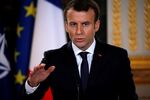 President Emmanuel Macron said "now is not the time" for France to push an initiative to settle issues between Israel and the Palestinians because the U.S. hasn't yet presented its own long-awaited proposals.
"We don't agree with the unilateral move by the Americans to recognize Jerusalem as the capital, but we want to see the full initiative put on the table," Macron told reporters after meeting Tuesday in Paris with Jordan's King Abdullah II. "We will bring our support to any useful initiative."
Macron said that in the meantime, "we will maintain contact with everyone in the region." Macron met Israeli Prime Minister Benjamin Netanyahu last Sunday and meets Palestinian Authority President Mahmoud Abbas Friday in Paris.
After the U.S.'s decision to recognize Jerusalem as Israel's capital, the Palestinian Authority broke off contacts with the U.S. and some Palestinian officials called for France to step in with its own proposals to push the sides toward a two-state solution.
"We will be waiting in the next few months on our American friends," Abdullah said. "We are waiting to hear what the plan will be and where it will bring us."
Both Macron and Abdullah indicated they wouldn't wait forever, with both saying that the first half of 2018 would be "crucial" for the region.
Before it's here, it's on the Bloomberg Terminal.
LEARN MORE