Kuroda Remains in Front in Guessing Game for Who Will Run BOJ
By
Most analysts in Bloomberg survey expect Kuroda reappointment

The BOJ governor's current five-year term ends in April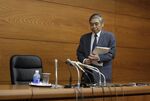 Prime Minister Shinzo Abe is likely to ask Governor Haruhiko Kuroda to lead the Bank of Japan for another five years, according to a Kuroda associate and BOJ adviser.
"I expect Kuroda will continue to be governor," Masahiro Kawai said in an interview. The chances are "very high" because both Abe and Finance Minister Taro Aso have expressed their faith in Kuroda, said Kawai, who is also a professor at the University of Tokyo.
While the Federal Reserve is tightening policy and the European Central Bank is edging toward tapering stimulus, the BOJ looks set to continue its monetary easing. With Kuroda's term finishing in April and both his deputies ending in March, BOJ leadership changes and what that might mean for policy are in focus by financial markets.
"Kuroda seems to be the only appropriate choice," Kawai, 70, said on Monday. "He's highly respected in the global circle of central bankers."
In addition to Abe, Aso also has a say on who should lead the BOJ because he will be the minister working most closely with the central bank governor, Kawai said. Aso last month joined Abe in praising Kuroda's efforts.
Kawai cautioned that recent comments by Kuroda on the "reversal rate" theory weren't a signal of an early tightening of policy, adding that the BOJ under Kuroda must be mindful of not repeating the mistakes of 2000 and 2006, when policy was normalized too early.
Read more about BOJ's recent shift in communications
"The BOJ is far, far off from taking any policy step toward tightening," Kawai said. "Japan's core inflation is below 1 percent. It feels wrong" for there to already be speculation about tightening now, he said.
"The most vital thing is that the BOJ sticks with current aggressive easing" he said. "They really shouldn't stop in the middle of their task. It will make all the efforts they have made in vain."
A tightening labor market and solid global recovery are positive factors to expect inflation to pick up, but it's uncertain if it will rise to the point where the BOJ could start tapering next year, Kawai said.
An announcement on the governor and deputy governor positions will need to come early next year.
Before it's here, it's on the Bloomberg Terminal.
LEARN MORE