politics
Japan Approves Deployment of New Land-Based Missile Shield
By
Move adds to existing Aegis ships and land-based interceptors

North Korea escalated regional tensions with provocations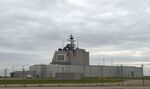 Japan's cabinet approved the introduction of two Aegis Ashore ballistic missile defense batteries, adding to its existing two-layered defense against North Korea's growing missile and nuclear weapons threat.
The Defense Ministry has requested 730 million yen (about $6.5 million) for initial land surveys and studies on introducing the land-based Lockheed Martin Corp. system in the budget for the fiscal year starting April, Defense Minister Itsunori Onodera said earlier this month.
Each Aegis Ashore battery is estimated to cost just under 100 billion yen, defense ministry officials told a meeting of the ruling Liberal Democratic Party on Dec. 12, Kyodo News reported. Last month, U.S. President Donald Trump urged Prime Minister Shinzo Abe to purchase more U.S. military equipment.
North Korea has fired two missiles over Japan this year, as well as three intercontinental ballistic missiles on steep trajectories into the Sea of Japan. In September, the isolated regime threatened to sink Japan "into the sea" with a nuclear strike and turn the U.S. into "ashes and darkness."

The system has already drawn the attention of Japan's neighbors.
China's Foreign Ministry spokeswoman Hua Chunying said Tuesday that neighboring countries follow Japan's military deployments closely for historical reasons. "We think this involves strategic mutual trust between various countries and we hope Japan can take the security concerns of other countries into consideration," she said at a regular briefing in Beijing.
Russian Foreign Minister Sergei Lavrov last month expressed concern that the U.S. system is encircling Russia, saying it's unacceptable to militarize the region as a response to the Korean crisis.
Japan currently has a two-layer missile shield: a ship-based Aegis system aimed at stopping short and intermediate-range ballistic missiles mid-flight, and ground-based PAC-3 interceptors to destroy warheads in their final stages of flight.
In June, Japan and the U.S. failed to shoot down a dummy ballistic missile in a test off Hawaii.
— With assistance by Peter Martin
Before it's here, it's on the Bloomberg Terminal.
LEARN MORE