politics
Italy's President Paves Way for National Elections in Early 2018
By
Voting probably will be scheduled for March 4 or March 11

Anti-establishment Five Star ahead of ruling PD in polls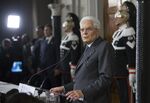 Italian President Sergio Mattarella signaled he would soon pave the way for national elections early next year, telling political leaders that the parliamentary term was drawing to an end.
"Our voice will be the stronger if we create the image of a country which is united, stable, determined, capable of respecting commitments," the head of state said at a year-end ceremony with government ministers, party leaders and senior officials at the presidential palace in Rome. He referred to "the electoral process which is about to begin."
Mattarella is likely to sign a decree to dissolve parliament between Dec. 27 and Dec. 29, according to a state official who could not be named discussing confidential matters. A general election would take place most likely on March 4 or March 11, the official added, with the date to be decided by the government of Prime Minister Paolo Gentiloni.
Italy may face political turbulence after the ballot as opinion polls currently show the anti-establishment Five Star Movement ahead of the ruling Democratic Party and of a possible center-right coalition. None of the three would win a parliamentary majority, according to the latest surveys.
Five Star
Five Star, which demands Mattarella give it a mandate to try to form a government if it wins the most votes, has ruled out creating a coalition, saying it would instead seek external backing for its policies from all political forces.
With the starting gun yet to be fired by Mattarella, premiership candidates Luigi Di Maio for Five Star and Matteo Renzi for the Democrats clashed over the former Renzi government's handling of bank crises earlier Tuesday.
Ignazio Visco, governor of the Bank of Italy, testified before a parliamentary investigation into banking difficulties that then-premier Renzi spoke to him twice about Banca Etruria, the first time in 2014. The second time, Visco said, he told Renzi that he could discuss supervision and troubled banks only with the finance minister.
Visco also testified that Fabio Panetta, the central bank's deputy director-general, spoke twice with then-parliamentary affairs minister Maria Elena Boschi about the situation of the bank. Boschi's father was at the time a board member and then the vice-president of Banca Etruria.
"Visco reveals Renzi's pressures on Banca Etruria," Di Maio tweeted. "For a scandal of this magnitude, a real democratic party would already have sent its leader packing."
Renzi retorted in a statement: "No 'insistence,' no 'pressure,' no request for 'a violation of secrets' has ever been made by us."
Amid accusations of lax oversight, the hearings are an attempt to understand how the state ended up having to pump billions of aid into lenders, including 5.4 billion euros ($6.4 billion) to recapitalize Banca Monte dei Paschi di Siena SpA after a failed market attempt. But with the election near, they have become a platform for politicians to exploit public anger.
— With assistance by Lorenzo Totaro
Before it's here, it's on the Bloomberg Terminal.
LEARN MORE