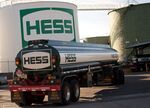 The barbarians have shown up at Hess Corp.'s gates (again) just in time for the holidays.
Activist fund Elliott Management Corp. has been on Hess's case for about five years, on and off. The company has been transformed in that time, selling off a slew of upstream and downstream assets. (Don't worry, the toy trucks are still there.) But the stock has done a round-trip, and Elliott is back, pushing for more changes:
The oil crash hasn't helped, obviously. But there's another, more subtle problem here. To put it in millennial terms, Hess's Facebook game is OK, but the kids have moved on to Snapchat.
Hess is a mini-major, with interests spread from the onshore U.S. to the Gulf of Mexico, offshore Guyana, Europe and Asia. As I wrote here, this model -- neither focused on hot areas like U.S. shale nor as truly diversified (at large scale) as the likes of Exxon Mobil Corp. -- largely reflects the past rather than a vision for the future. Accordingly, it hasn't gotten much love this year: Hess's stock is down about 30 percent, similar to such peers as Apache Corp. and Anadarko Petroleum Corp.
Hess has good assets, and the strategy broadly makes sense, reallocating cash to the world-class, Exxon-operated Liza discovery off the coast of Guyana. A combination of cutting costs, along with growing production in the Bakken shale basin and funding dividends, some buybacks, and capital expenditure partly with disposal proceeds, is intended to keep investors interested until profits begin to flow from Guyana in 2020. So while Hess is making losses, investors are encouraged to pay for that future value now.
This is pretty standard in the oil business -- or, at least, it was.
This has been a funny year for the exploration and production sector, and not in a ha-ha way:
Investors have tired of the promise of riches down the road. Close peer Anadarko acknowledged as much --and maybe headed off activists itself -- when it announced a big buyback and change in strategy. A simple story, living within one's means and showing a clear path to lower costs and free cash flow are now in vogue. In that sense, Hess's strategy is simply out of sync with the current market.
Another hindrance is that it cannot point to a long track record of creating value. For example, based on results through September and consensus forecasts, I estimate Hess's realized revenue from exploration and production this year will be $37.39 per barrel of oil equivalent. 1 This is about what it got in the past two years and, interestingly, back in 2005. Back then, Hess earned $3.78 a share. The analyst consensus for this year? A loss of $4.48 a share, according to figures compiled by Bloomberg.
That big swing of roughly $8 a share exemplifies what has happened to Hess's returns -- and largely independent of how oil and gas prices have moved in the meantime. The company isn't alone in this respect; return on capital employed fell across the sector due to excessive spending in the boom years.
But with most companies resetting costs, strategy and value proposition, competition for that marginal dollar from a wary pool of public investors is intense. And despite the drop in Hess's stock this year, the near-term pressure on earnings means it still looks expensive, even against sector darlings such as EOG Resources Inc. and ConocoPhillips:
It's little wonder, therefore, that Elliott is turning up the heat again. If public markets aren't that into the promise of Hess's net asset value, other potential buyers may well be -- that's often the rationale for buybacks and M&A.
This explains why, even if Elliott hasn't called publicly for CEO John Hess to step down, that question now hangs in the air. Hess's board, including two directors nominated earlier by Elliott, made a point of saying it "unanimously" supported the CEO.
John Hess controls about 11.3 percent of the company and, perhaps more pertinently, his name and that of his founder father are above the door (and on those toy trucks). It is not hard to imagine he would demand a very high price for any transaction that saw the company absorbed or its portfolio radically overhauled from here.
Even if the CEO were somehow persuaded to go, a full takeover still looks challenging. Hess's enterprise value is a chunky $20 billion, and that's before any takeover premium. And the same aversion to mixed portfolios and net-asset-value-based investing in the sector could make it hard for a buyer to sell the deal to their own investors (especially as those high multiples would make it look dilutive on a near-term basis).
That said, though, it's hard to see how Hess doesn't at least explore the possibility of further disposals or perhaps more. Even as it has shifted strategy, and quite far, already, the world has simply moved farther.
This is the effective price for all of Hess's output, adjusted for the differences between crude oil, natural gas liquids and natural gas. For the purposes of this calculation, I assume that the realized price for NGLs in the fourth quarter will be 36 percent of the realized price for crude oil, in line with what Hess reported in the third quarter.
Before it's here, it's on the Bloomberg Terminal.
LEARN MORE