Southern seeking state's permission to finish reactors

Project's costs have soared due to construction delays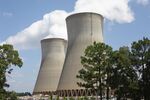 The last survivor among a slew of major U.S. nuclear power projects is getting one step closer to seeing the light of day.
The Georgia Public Service Commission, slated to meet on Thursday, will likely approve Southern Co.'s proposal to finish a plant in the state with terms and conditions that will make the completion viable, Chairman Stan Wise said. The project could become the first U.S. nuclear plant licensed in recent years that gets to be built, following delays that sent total estimated costs soaring to more than $25 billion.
"We hope a decision is reasonable enough that Georgia Power and their partners agree to go forward," Wise said in a telephone interview. "Our commission is not going to make a decision to discontinue the plant."

Southern's Georgia Power utility is seeking approval to finish the reactors at the plant after its share of the project's costs doubled to $12.2 billion and the completion date was delayed by more than five years to November 2022. The project, which Southern co-owns with Oglethorpe Power Corp., Municipal Electric Authority of Georgia and Dalton Utilities, has been seen as the best chance for a U.S. nuclear renaissance. Hopes of a revival have fizzled after the Fukushima disaster in Japan and a plunge in power prices from cheap natural gas.
Southern shares have increased 1.3 percent this year. The stock was little changed at $49.78 at 10:32 a.m. in New York.
Abandoned Projects
Earlier this year, Scana Corp. abandoned its effort to build two new reactors in South Carolina after delays and cost overruns. Southern's Plant Vogtle project in Georgia remains the only one under construction out of more than a dozen federal applications for new reactors.
Commissioner Tim Echols said he was considering preparing a motion that would lower the amount of profit Georgia Power could earn on the project.
"Based on what we've seen coming out of South Carolina's capital, I would be surprised if our commission canceled this project," Echols said in an interview.
On Tuesday, the staff of the commission proposed that the project's cost be capped at $9 billion, the amount it would take to cancel and replace its power with a gas-fired generator, according to a filing. The staff said its proposal would be $1.5 billion less than the company said it needed, including a penalty payment to Southern from Toshiba Corp., whose Westinghouse Electric Co. unit backed out of the project after filing for bankruptcy in March.
Southern's project doesn't make economic sense beyond $9 billion, the regulatory staff said in the filing. The staff also said that "a portion of the company's proposed costs resulted from the mismanagement of the project" and therefore shouldn't be billed to customers.
Georgia Power said the commission should reject the staff's recommendation for a cost cap and restrictions on other costs as those conditions would force the cancellation of the project, according to a separate filing Tuesday.
"There is no requirement at all that the commission has to agree with what the staff says," said Kit Konolige, an analyst for Bloomberg Intelligence. "I think the public statements by enough of the commissioners seem to be pretty much for completion. I think they will give it the go-ahead."
— With assistance by Margaret Newkirk, and Ari Natter
Quotes from this Article
Before it's here, it's on the Bloomberg Terminal.
LEARN MORE