Five Things You Need to Know to Start Your Day
Get caught up on what's moving markets in Asia.
By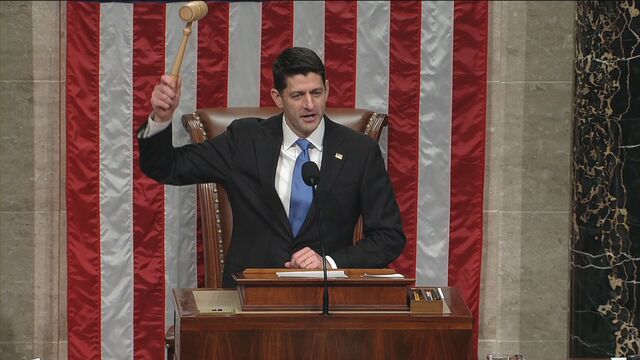 Want to receive this post in your inbox every morning? Sign up here.
U.S. tax cuts are one step away from Trump's desk, Treasuries tumble, and Australia has a good-problem problem. Here are some of the things people in markets are talking about.
U.S. Tax Cuts Pass House 
House Republicans passed a sweeping U.S. tax overhaul that delivers a deep, lasting cut for corporations and temporary benefits for people, putting President Donald Trump one step away (or maybe two, counting a procedural hiccup) from his first major legislative victory. Only 12 Republicans, mostly from high-tax states where some taxpayers stand to get whacked, voted against the bill, dubbed the Tax Cuts and Jobs Act. The legislation, which has scored poorly in public opinion polls, will be one of the biggest issues in the 2018 elections, which will determine whether the GOP retains its majorities in Congress. Key points include slashing the corporate tax rate from 35 percent to 21 percent, an array of temporary breaks for people and small businesses, and a higher standard deduction to help lower earners. The bill could reduce federal revenue by hundreds of billions of dollars or more. The S&P 500 Index traded lower in most of Tuesday's session, to close down slightly at 2,681.47, after a two-day rally that sent the benchmark up 1.5 percent.
Australia's Dilemma
He helped subdue Australia's housing market frenzy. Now, Reserve Bank Governor Philip Lowe has to navigate an economy that's looking up despite record household debt and low wage growth. This presents a dilemma for the central bank, which has sat on record-low interest rates for 16 months, in 2018:  gauging just when the economy can handle a rate hike. Banks can't seem to agree on an answer. Goldman Sachs believes the RBA will go in May, while Westpac expects the central bank to stand pat all the way until 2020.
Making Money in Macau
More than two years after Chinese restrictions sent profits for Macau casinos into a tailspin, some analysts are predicting a comeback. The average forecast for gaming revenue is a rise of 14 percent next year, according to a Bloomberg survey of 10 analysts. VIP gamblers are expected to be the biggest driver, but there's also the prospect of a large number of leisure tourists pouring in as glitzy new casinos and attractions open on Cotai, Macau's equivalent of the Las Vegas strip. Macau could see another slowdown with any unexpected pressures on the Chinese economy and consumer spending, but analysts are currently betting on a brighter future. Morgan Stanley projects that annual earnings in the Macau gaming industry could rise to about $8.4 billion in 2018 before reaching an all-time high of $9.6 billion in 2019.
Bonds Buckle
Treasury prices continued to grind lower on Tuesday, losses consistent with futures-led selling, with volumes running well above recent averages. The selloff has caused pain for some, including hedge funds and other large speculators, which ramped up net long positions in Treasury bond futures to a near-record in the week through Dec. 12, according to CFTC data. But at least one large position amassed last week looks prescient. A trader bought 50,000 put options on bond futures, wagering that the price of long-dated Treasuries would fall as 30-year yields increased. They broke through the target level amid a sustained climb in long-end yields Tuesday to 2.82 percent. That leaves the wager showing a profit of about $60 million.
On Tap
The holiday lull will be apparent this morning, on the final real hump day of the year. There are a few data points to stir the pot. New Zealand reports trade figures and we'll get Malaysia CPI, before the Bank of Thailand is expected to hold interest rates at 1.5% and the Indian central bank releases minutes of the December meeting, when it left rates unchanged. The European day may be enlivened by a string of EU events. Brexit discussions and directives are due out of Brussels, and then the European Commission may trigger a procedure stripping Poland of its EU voting rights. The U.S. data docket delivers mortgage applications and existing-home sales.
What we've been reading
This is what caught our eye over the last 24 hours.
— With assistance by Garfield Clinton Reynolds
Quotes from this Article
Before it's here, it's on the Bloomberg Terminal.
LEARN MORE