Five Things You Need to Know to Start Your Day
Get caught up on what's moving markets.
By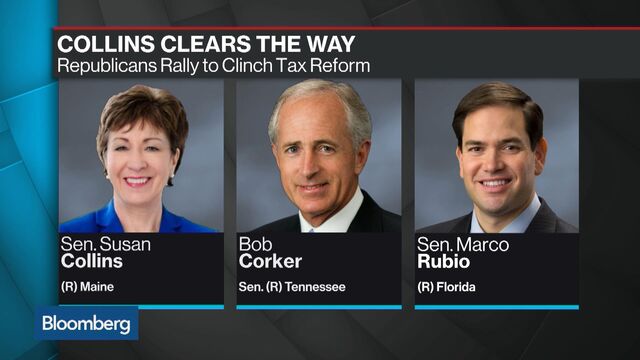 Want to receive this post in your inbox every morning? Sign up here
It's vote day for the tax overhaul plan, EU rules out special deal for U.K. banks, and emerging markets may have run out of luck. Here are some of the things people in markets are talking about today.
Voting
The House is scheduled to vote on the revised tax bill around 1:30 p.m. Eastern Time. The Senate will tackle the legislation after, and baring procedural delays, could pass it either late this evening or tomorrow morning. The final overhaul plan, which President Donald Trump will sign into law after it gets the green light from Congress, falls short on election promises while still delivering broad tax cuts. 
Nothing special
European Union Chief Negotiator Michel Barnier said there would be no special deal allowing the U.K. financial services industry access to the single market after Brexit, adding that Britain would have to abide by any new EU rules during the post-Brexit transition period. His comments come as the European Central Bank told financial firms looking to set up a base in the common currency area that it would be paying 'special attention' to their plans to avoid the establishment of empty shell offices. In the U.K., Prime Minster Theresa May's full cabinet meets today to discuss what they want the Brexit 'end state' to look like. 
Good news, bad news?
Emerging markets investors have had a good couple of days, capped off with the election of Cyril Ramaphosa as president of South Africa's ruling party. While the new leader has ambitious plans to turn around the country's beleaguered economy, the tide of global investor opinion may be turning. The IMF has warned that central bank tightening in developed markets, particularly by the Federal Reserve, will cause a reversal of investor fund flows into EM.  
Markets quiet
Overnight, the MSCI Asia Pacific Index climbed 0.2 percent, while Japan's Topix index closed 0.2 percent lower. In Europe the Stoxx 600 Index was unchanged at 5:50 a.m. as investors see the U.S. tax debate as settled and have no other investment drivers ahead of the holiday break. S&P 500 futures were 0.1 percent higher, the 10-year Treasury yield was at 2.396 percent and gold was unchanged.
Naivety scene
Andrew Left, a short seller at Citron Research, says he is taking advantage of "an incredibly naive investor base" by selling short the Bitcoin Investment Trust -- a publicly traded vehicle which trades at double the value of the bitcoin it holds-- while buying bitcoin futures. The cryptocurrency was trading at $18,066.40 this morning and the success of the token continued to lift its rivals. 
What we've been reading
This is what's caught our eye over the last 24 hours.
Before it's here, it's on the Bloomberg Terminal.
LEARN MORE