Fed's Kaplan Warns Inverted Yield Curve Would Limit Flexibility
By
Dallas Fed chief sees three 2018 interest-rate hikes

Fed's Kashkari says bond markets pricing lower neutral rate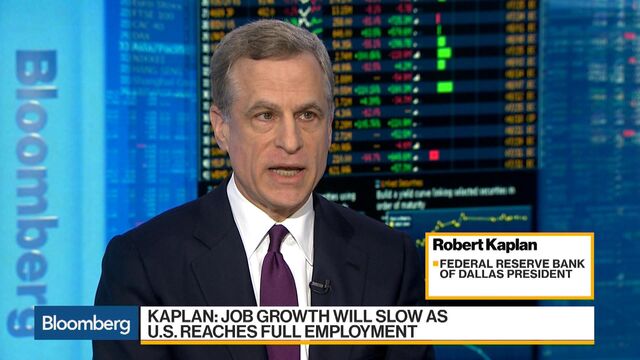 Federal Reserve Bank of Dallas President Robert Kaplan joined other policy makers in cautioning that a flattening yield curve could be sending a warning signal on the U.S. economy that could inhibit the central bank's room for maneuver.
"It limits the Fed's operating flexibility, in my judgment, in terms of how fast and how much we can raise rates," Kaplan told Michael McKee in an interview Tuesday on Bloomberg Television. "The history of inversions is such that it has tended to be a pretty reliable forward indicator of recession. Now, this time may be different, but I wouldn't count on it."
The Fed raised interest rates last week for the third time in 2017 and maintained its forecast for a further three increases in 2018 while raising its projection for growth by fourth tenths of a percentage point to 2.5 percent. Kaplan said his forecast was for three rate moves in 2018.
Officials are cautiously tightening policy amid a robust labor market that's driven unemployment to a 16-year low of 4.1 percent, though inflation remains well below its target of 2 percent and is only seen approaching that goal by the fourth quarter of next year.

Kaplan's caution on the risk from a flatter or even inverted yield curve echoes warnings from St. Louis Fed chief James Bullard and Minneapolis's Neel Kashkari, who reiterated his view that the flatter curve was a sign from investors that long bond yields will be capped by weaker economic fundamentals.
Kashkari separately told Bloomberg Television on Tuesday that a flatter yield curve partly reflects lower inflation expectations and shows investors are buying into the idea that long-term neutral rates, which balance savings and investment in the economy, have fallen.
"Markets are embracing that concept and pricing in a lower -- we call it R-star -- which then caps where bond yields are, and at the same time can explain some of the appreciation in the equity markets, as they discount cash flows at a lower rate," he said.
— With assistance by Brian Chappatta
Before it's here, it's on the Bloomberg Terminal.
LEARN MORE