markets
Dominican Republic Seeks to Tap 'Massive Appetite' for 9% Yields
By
New rules aim to bolster liquidity, attract foreigners

Deeper local bond market could boost country's credit rating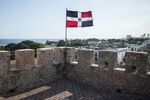 The Dominican Republic is moving to boost liquidity and cut risk in its capital markets, potentially opening one of the highest-yielding local currency bonds in emerging markets to more foreign buyers.
New rules set to be approved this month, including increasing online trading and possible changes to tax rates for investors, are aimed at expanding and modernizing the local bourse. Over-the-counter trades account for the majority of the market's $42.5 billion in stock and bond transactions this year. The changes could unleash pent-up demand from overseas for peso-denominated government debt, which yields 8.92 percent on average, according to data compiled by Bloomberg.
"There's a massive appetite from investors in the local currency-denominated debt due to the high real yields," said Andrew Stanners, a London-based money manager at Aberdeen Asset Management. "If international investors could access this, it would dramatically lower domestic lending rates."

Local government bonds have returned almost 15 percent this year in dollar terms, compared with the 12.4 percent average for emerging markets, according to data compiled by Bloomberg. Yet international investors have shied away from the bonds due to what they perceive as a lack of transparency and complex rules for establishing a local account. That's left pension funds and local banks and investors as the most prominent buyers, according to Javier Trullols, CEO of Santo Domingo-based investment adviser Invertix.
In the Dominican Republic, just 13 percent of local sovereign bonds are held by foreigners, according to Finance Ministry data, compared with 64 percent in Mexico and 26 percent in Colombia.
"There is strong governance and the Dominican Republic's risk is lower than others in Latin America," Trullols said. "It's important that we promote the market to foreign investors."
The $72 billion economy, the fastest-growing in Latin America last year, is expected to expand 4.8 percent this year, according to the International Monetary Fund, as consumer prices increase 3 percent, near the low end of the central bank's inflation target.
The new market rules, which have been approved by congress and are expected to be signed by President Danilo Medina, will bring operations up to international standards, said Luis Martin Gomez, a spokesman for the central bank, one of the main issuers of bonds in the Dominican Republic. He cited clearer rules for reporting relevant information to investors and safeguards, including limiting the threat of systemic risks from bankruptcies, among other changes that will be put in place starting next year.
Stanners said the government has been reluctant to open the market, in part, because an increase in foreign buyers could bring more volatility to the local currency. The peso has lost 3.54 percent this year against the U.S. dollar, the worst performance among a basket of Caribbean and Central American currencies tracked by Bloomberg.
Gomez dismissed concerns about the effect on the peso, saying its performance is in line with the bank's projections. The economy's main foreign currency earners -- tourism and overseas remittances-- will help support the currency's stability, he said.
To date, one of the few ways for foreigners to tap the local market has been through Citigroup Inc.'s global depositary notes, which can give investors exposure to local-currency bonds without establishing a presence in the country. Investments in such accounts rose 65 percent in the past year, the bank said, without specifying the amount.
In addition to driving down borrowing costs, attracting more investors could help the nation improve its credit rating by making itself less reliant on international debt markets, according to Ariane Ortiz-Bollin, an analyst at Moody's Investors Service. After an upgrade in July, the Dominican Republic is rated Ba3 by Moody's, three levels below investment grade and in the same category as Bolivia and Serbia.
"We have singled out the very shallow domestic market as a detriment to the credit profile, specifically that around 70 percent of their debt is global," she said in a telephone interview. "Attracting foreign investments seems like a way to develop that market."
— With assistance by George Lei, Christine Jenkins Tanzi, and Aline Oyamada
Before it's here, it's on the Bloomberg Terminal.
LEARN MORE