Crypto Mania Rages as Pioneer Sells Out, Coinbase Stumbles
By and
News wave builds from Tuesday as frenzy wells up over tokens

Litecoin founder sells, Crypto Co. gets regulator scrutiny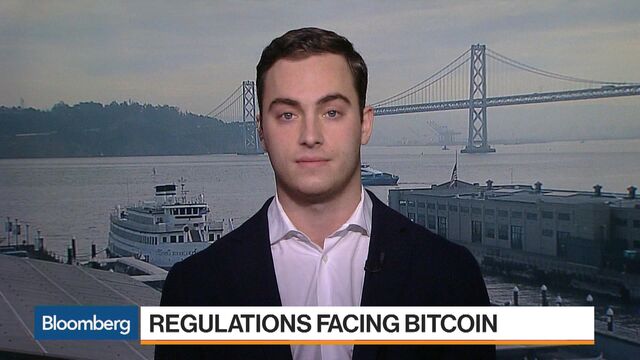 The wave of cryptocurrency news has turned into a tsunami this week.
Litecoin's creator said he's sold his holdings in a year it's rocketed 7,500 percent, wanting to avoid a conflict of interest. Hours earlier a Korean crypto exchange went bust after getting hacked; U.S. regulators halted a coin trader's stock on suspicion of manipulation; a stock unheard of two days ago surged even after its CEO gave a rambling defense of its business; alt coins ether and iota reached new record highs; and an app maker's shares jumped about eightfold intraday after getting a bitcoin ATM patent.
The frenzy is reminiscent of the heady days of the dot-com bubble, when stories of mailroom millionaires sparked a rush to list anything remotely related to the internet. That's not to say the digital currency craze must end any time soon. Tuesday even brought a sign that it's just getting started: A unit of Cboe Global Markets filed to list a bitcoin exchange-traded fund.
Here's a roundup of the last two days in crypto:
Cash Out
Charlie Lee, creator of the fifth-biggest cryptocurrency by value, said he no longer owns any Litecoin, other than a few physical collectibles. "In the past days, I have sold and donated all my LTC. Litecoin has been very good for me financially, so I am well off enough that I no longer need to tie my financial success to Litecoin's success," he said in a Reddit post.
Suspicious Price Increase
Coinbase Inc., one of the most popular U.S. cryptocurrency exchanges, is adding bitcoin cash to its offerings, giving momentum to a rival of the most popular digital unit. There was a hitch, however. The San Francisco-based company said it's investigating a price increase in bitcoin cash that occurred before the announcement. Bitcoin itself fell about 10 percent after the news. While Coinbase briefly enabled orders to be posted in U.S. dollars on its platform for more sophisticated traders, it suspended it after two minutes due to "significant volatility," the company said in a blog post. Coinbase plans to reopen the order books Wednesday.
Trading Suspended
And speaking of suspensions, U.S. regulators temporarily halted trading in Crypto Co. over concerns that the stock is being manipulated after it surged more than 2,700 percent this month, making paper billionaires out of top executives. Crypto is the product of a reverse merger with a company that made water and radio-wave resistant sports bra pockets, according to a November filing. Last week it issued stock to accredited investors at $7, a 97 percent discount to the prior day's closing price.

Rally Resumed
Just when there looked to be a limit to the mania, LongFin Corp. captured the attention of the masses. The stock's four-day rally reached 2,600 percent on Monday, earning its chief executive an appearance on CNBC. The interview did not go well for him as he got into a heated debate with the anchors, telling them, "you don't understand." Overnight LongFin shares stumbled...but they resumed their ascent in regular trading, rising as much as 23 percent before ending the day little changed.
Belly-Up Exchange
South Korean coin exchange Youbit became a casualty of hackers, saying it will close and enter bankruptcy after a cyberattack. Korea has emerged as a sort of ground zero for the global crypto mania, with so many Koreans embracing bitcoin that the prime minister recently warned that cryptocurrencies might corrupt the nation's youth.
Riot Offering
Riot Blockchain Inc., a stock virtually unknown three months ago, had a secondary offering as its shares pushed their gain since September to 700 percent. The company issued 1.64 million restricted units at a purchase price of $22.50 each. The stock closed Monday at $36.47. Short-seller Citron Research said yesterday it was betting against Riot, citing "full mania."

ETFs Launching
Cboe filed for a proposed a rule change to list and trade shares of the GraniteShares Bitcoin ETF and GraniteShares Short Bitcoin ETF, a series of the GraniteShares ETP Trust. The exchange is a unit of Cboe Global Markets, which became the first to offer futures trading on bitcoin 10 days ago.
Digital Juicer
An erstwhile juicemaker from Hong Kong saw a Twitter mention send its stock soaring. Future FinTech Group Inc. -- until May known as SkyPeople Juice International Holding --soared more than 215 percent after a CNBC anchor called attention to its business. The stock was up 9 percent at the time of the tweet.

Bitcoin ATM
DNA Dynamics surged about eightfold during Tuesday trading after saying it agreed to buy a patent "that requires any Bitcoin ATM operator to give a royalty on every Bitcoin ATM transaction" throughout the U.S. The company said it could see up to $1 million in revenue a year. It's not clear how many such ATMs exist or how often they are used.
For more on cryptocurrencies, check out the Decrypted podcast: 

What About the Original?
Lost in the hubbub over the feeding frenzy in cryptocurrencies and related stocks was the original digital coin itself. Bitcoin fell 9 percent to less than $17,000 on Tuesday, the steepest decline it two months. It was little changed on Wednesday.

— With assistance by Todd White, Drew Singer, Brad Olesen, Eric Lam, Nour Al Ali, and Sid Verma
Before it's here, it's on the Bloomberg Terminal.
LEARN MORE