politics
China Says Trump Risks U.S. Leadership With Security Shift
Bloomberg News
Strategy speech perpetuates 'you win, I lose' mentality'

President accused Beijing of challenging American influence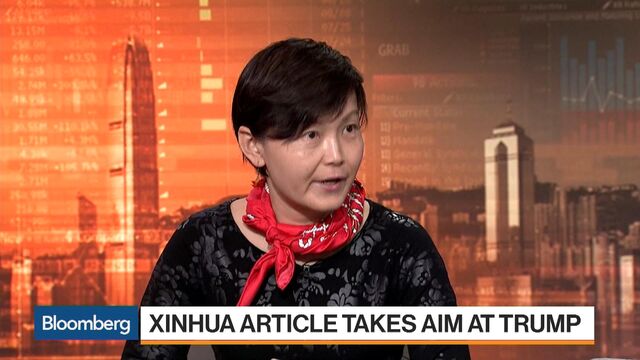 China accused President Donald Trump of shirking the U.S.'s global leadership role, a day after his first national security strategy branded the country a "revisionist power."
A commentary published by China's official Xinhua News Agency said the security plan that Trump unveiled Monday in Washington perpetuated a "'you win, I lose' mentality" that jeopardized the U.S.'s own interests. The piece cited Trump's decisions to withdraw from the Paris climate accord and recognize Jerusalem as Israel's capital as similar moves.
"This unilateralism, zero-sum mentality and shirking of global responsibilities makes it harder to win respect and trust from other countries," Xinhua said, adding that the approach "renders it impossible to garner enough moral appeal and international influence to realize its own interests and security pursuits."
In his speech, Trump listed China alongside Russia as U.S. rivals, with Beijing seeking "to challenge American influence, values, and wealth." The accompanying strategy document mentioned China more than 30 times, including accusing it of unfair trade practices.
The speech was the latest sign of a toughening U.S. line against China since President Xi Jinping hosted his American counterpart at a lavish state visit last month. The Commerce Department is due to report soon on investigations into steel and aluminum imports, while the U.S. Trade Representative office is probing China's intellectual-property practices.
'Complete Selfishness'
Still, Trump stopped short of branding the country a "strategic competitor," as senior administration officials said he would before the speech. And he said he would continue to partner with China and Russia on areas of agreement.
The Chinese Embassy in Washington called Trump's offer of partnership "contradictory." "Putting one's own interest above that of others and the international community is complete selfishness which will lead to self-isolation," the embassy said.  
By accusing the U.S. of failing to live up to its global responsibilities, China was appropriating an argument that previous American presidents have used against Beijing. George W. Bush urged China to become "a responsible stakeholder," while Barack Obama criticized Beijing to try to be "a free rider" under the global order.
Chinese Foreign Ministry spokeswoman Hua Chunying said at a regular briefing Tuesday that the two countries shared common goals and must respect each others' core interests.
"It is futile for any country to distort the facts or to smear China," Hua said in Beijing. "We urge the U.S. side to stop distorting China's strategic intentions and to abandon Cold War thinking and a zero-sum mindset, otherwise it would only harm both sides."
— With assistance by Ting Shi, and Peter Martin
Before it's here, it's on the Bloomberg Terminal.
LEARN MORE