How Tesla's Model X Stacks Up Against China's New NIO
Bloomberg News
The cheaper Chinese car holds up against the Model X's might

Promises owners three-minute battery swap, on-road assistance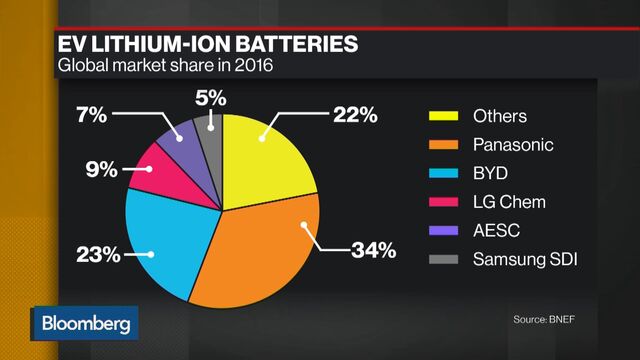 Chinese startup NIO marked its entry last week into the world's biggest market for electric cars with a sport utility vehicle priced cheaper than Tesla Inc.'s Model X.
Set up about three years ago, NIO is among the youngest companies to join the global EV melee as regulators worldwide crack down on emissions and countries, including China, consider phasing out automobiles powered by gasoline and diesel. In China, NIO will also be competing against giants including Volkswagen AG and General Motors Co., besides local rivals such as BYD Co.
When it comes to taking on the the might of Elon Musk's Model X, the NIO's new ES8 is no shrinking violet. It accelerates from 0-100 Kmph in 4.4 seconds, compared to the Tesla model's 5.2 seconds. On a speed charge, it also fills the battery with juice in a little over an hour, compared to anywhere between an hour and an hour and 20 minutes for Tesla.
So, here's how the seven-seater ES8 stacks up against the Model X in China:

NIO is promising features and services to reassure buyers that they won't be left stranded in the middle of nowhere after running out of battery charge. Owners of the ES8 can charge their car by swapping batteries at power-swap stations in three minutes or recharge with the help of "Power Mobile" service vehicles that travel to motorists.
The startup plans to build more than 1,100 power-swap stations in China by 2020 and have more than 1,200 "Power Mobile" service vehicles. A battery-swap station can be assembled within a day, according to Li. Tesla had also initiated a swap program a few years ago.
NIO will also offer other free services including on-road assistance.
Founded by William Li and a group of internet entrepreneurs in 2014, NIO has raised more than $1 billion from investors led by Tencent Holdings Ltd. is also backed by investors including Baillie Gifford & Co., the second-biggest institutional investor in Tesla, Lone Pine Capital LLC, CITIC Capital Holdings Ltd. and China Asset Management Co.
(Corrects table with updated information on acceleration and charging time for Tesla's Model X in story published on Dec. 19.)
— With assistance by Ying Tian, and Hannah Dormido
Before it's here, it's on the Bloomberg Terminal.
LEARN MORE