U.K.'s Top Christmas Cracker Goes From Bang to Brexit Whimper
By and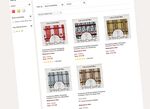 As the U.K. hems and haws over the cost of leaving the European Union, here's one Brexit expense it can't wiggle out of: a pricier Christmas cracker.
The cost of the Crackertoa, rated by the Independent newspaper as its top selection because of its unusually loud bang and burst of confetti, rose 50 percent this year to 18 pounds ($24) for a pack of six at retailer John Lewis Partnership Plc, the exclusive U.K. department-store seller. The traditional British holiday table decorations -- which emit a pop when pulled at each end by diners and contain party favors -- have gotten more expensive because of the plunge in the pound since the U.K. voted to leave the European Union.
For the Crackertoa, named after the Krakatoa volcano in Indonesia, the currency effect is particularly pronounced. That's because it's made in South Africa, where the rand was trading at 24 to the pound when John Lewis ordered its 2016 stock. By January, when the retailer placed its order for this Christmas, it took less than 17 rand to buy a pound -- a gain of about 30 percent.
"That's had a major effect on the pricing for them," said Miles Rasmussen, who heads Glenart Trading, which makes the crackers at a factory near Durban. The Crackertoa employs patented explosive technology and is made by hand by about 200 workers, differentiating it from cheaper competitors. But that also means Glenart has less pricing flexibility than giant manufacturers in Asia, the source of most of the U.K.'s holiday poppers.
John Lewis sold out of the Crackertoa about two weeks before Christmas last year, so it more than tripled its order this time around to about 360,000 crackers. At the higher price, the cracker packed less of a punch, and John Lewis has marked it down for clearance to 14 pounds -- still 17 percent more than last year.
Before it's here, it's on the Bloomberg Terminal.
LEARN MORE