Turkish Banker Faces Grilling From Prosecutor in Sanctions Trial
By
After two days on stand, Halkbank executive is cross-examined

Halkbank's Atilla denies testimony, evidence against him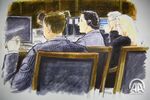 A Turkish banker accused of helping Iran evade U.S. sanctions faced a grilling from prosecutors seeking to undermine his credibility, after two days of friendly questioning from his lawyer.
Assistant U.S. Attorney David Denton set about trying to challenge Mehmet Hakan Atilla and find inconsistencies in his testimony. He sought to portray the senior banker at Turkiye Bank Halkasi AS as eager to do business with Iran in order to bolster his bank's assets and revenue, at a time when it was gearing up for a securities offering.
But Atilla denied claims he attended a meeting in 2012 with Iranian central bankers and national oil company executives where ways to help Iran access its money were discussed, as gold trader Reza Zarrab described to the jury during the trial.
"I did not take part in a meeting as described by Zarrab at all," Atilla said under cross-examination in Manhattan federal court Monday.
The 47-year-old banker took the stand last week in a high-stakes gamble to refute the case against him. That opened the door to being questioned by prosecutors in front of the jury. During his testimony on Friday and earlier Monday, Atilla said Zarrab lied on the witness stand and also claimed his comments in wiretapped telephone conversations were misunderstood.
Atilla was arrested in the U.S. earlier this year while on a road show to promote a securities offering, and accused of participating with a network of other Turkish politicians and bankers to help Iran tap funds from overseas oil sales that were beyond its reach because of U.S. sanctions. Zarrab had pleaded guilty before trial and testified for the U.S.
Seven other bank executives, Turkish officials and employees of Zarrab's network were also charged, but they have avoided U.S. arrest.
Prosecutors began their cross-examination of Atilla late in the afternoon Monday and the questioning didn't last long before the jury was sent home for the day. With the trial now in its fourth week, jurors could hear closing arguments as early as Tuesday and begin deliberating later this week.
The case is U.S. v. Atilla, 15-cr-867, U.S. District Court, Southern District of New York (Manhattan).
Before it's here, it's on the Bloomberg Terminal.
LEARN MORE