politics
This U.K. Think Tank Claims to Have Solved the Brexit Conundrum
By
IPPR proposes new U.K.-EU customs union to solve border issues

Britain could choose to diverge from EU rules in certain areas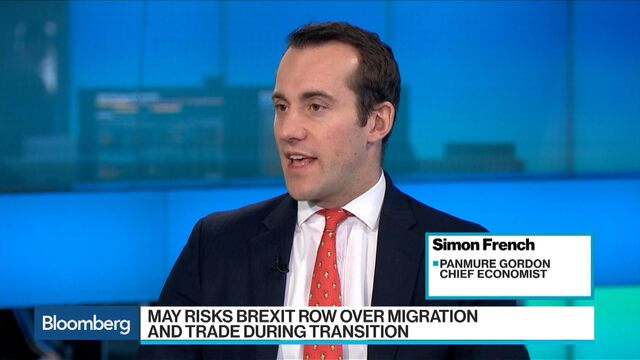 Follow @Brexit for all the latest news, and sign up to our daily Brexit Bulletin newsletter.
A U.K. think tank has proposed a Brexit model that it says could satisfy both the desire to regain sovereignty from the European Union and the need to keep access to its markets.
The idea, set out by the Institute for Public Policy Research, is to set up a new customs union with the EU, within which the U.K. could choose to diverge from European rules in specific areas. It would also take Britain out of the jurisdiction of the European Court of Justice, replacing it with a joint U.K.-EU court. But it would allow borderless trade to continue between the U.K. and the EU.
"This isn't a proposal for the 15 percent of extremists on either side," said Tom Kibasi, director of the IPPR and an author of the report. "It is a proposal for the 70 percent of people who want a sensible deal, built on precedents, that would work for the whole country."
While the IPPR will present its plan to U.K. Brexit Secretary David Davis on Tuesday, there's no guarantee either side in the negotiation will take it seriously. The IPPR, which bills itself as "progressive," is usually more influential on Labour governments than Conservative ones, and the EU's chief negotiator Michel Barnier insists that the U.K. shouldn't be able to "cherry pick" the best bits of EU membership.
Before it's here, it's on the Bloomberg Terminal.
LEARN MORE