Sweet Briar College, Which Almost Closed, Gets a Rating Upgrade
By
Virginia woman's school exemplified pressure on small colleges

The number of private colleges has shrunk over past two years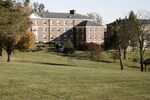 Two years after its crumbling finances almost forced it to shut down, Sweet Briar College is slowly on the mend.
The 111-year-old women's college with just under 320 full-time students was upgraded one notch by S&P Global Ratings to B+ last week. While that rating is still four levels below investment-grade, the outlook for investors looks better than it did in 2015, when the college was veering toward closing and defaulting on its debts.
The school's near collapse underscored the increasing pressure on some small American colleges that struggled to compete with large universities as undergraduate enrollment declined and students balked at taking on large student loans to cover tuition. The number of private, nonprofit colleges has dropped by 32 schools over the past two academic years, according to National Center for Education Statistics data on schools eligible for federal students aid.
The Virginia liberal arts school received over $40 million to keep its doors open, thanks to an initiative led by alumnae. Fewer freshmen have transferred out over the past two years and Sweet Briar officials say the number of applications for fall 2018 have increased from a year earlier.
New President Meredith Woo is helping improve the school's credit, S&P analysts said in a Dec. 13 report. Woo is overseeing changes in the school's curriculum and tuition rollbacks that she said will help its effort to increase enrollment around 25 percent each year.

Sweet Briar will slash undergraduate tuition, fees and room and board over 30 percent to $34,000 next fall. It will also change its core curriculum to focus on leadership and reorganize departments and majors around the sciences, sustainability and creativity. The cut in tuition will make Sweet Briar more competitive with public universities in Virginia, Woo said. A little less than half of its students are from the state.
The changes have won the support of the alumnae who banded together to prevent the college from closing, Woo said.
"Alumni truly love this college and their passion for it is not a passing passion," Woo said. "They made history in American higher education by coming together with such intensity and passion to not only save the college -- there's no point in saving the college if it's not sustainable."
Sweet Briar has also reduced its debt-load by re-purchasing $8.6 million in debt from a bank for a discounted price of $6 million, spokeswoman Melissa Richards said in an email. It now has about $20 million in debt.
Investors also appear more confident in the college's future: The gap between the yields on top-rated debt with a 13-year maturity and Sweet Briar bonds maturing in 2030 has narrowed to 3.98 percentage points by Dec. 15 from 4.85 percentage points on Dec. 16, 2016, according to data compiled by Bloomberg.
Still, Sweet Briar's endowment has shrunk by about $20 million since fiscal 2014 to $74 million in fiscal 2017, according to S&P. The ratings company said it expects fundraising efforts to "moderate" over time.
Woo said she has no concerns about the school's ability to pay its debts. "I'm very excited about the future of Sweet Briar," she said.
Quotes from this Article
Before it's here, it's on the Bloomberg Terminal.
LEARN MORE