Traders Whipsawed as Gujarat Election Spurs Early Sensex Slump
By , , and
Indian equities rebound, bonds, currency pare initial declines

BJP set to return in Modi's home state after bellwether vote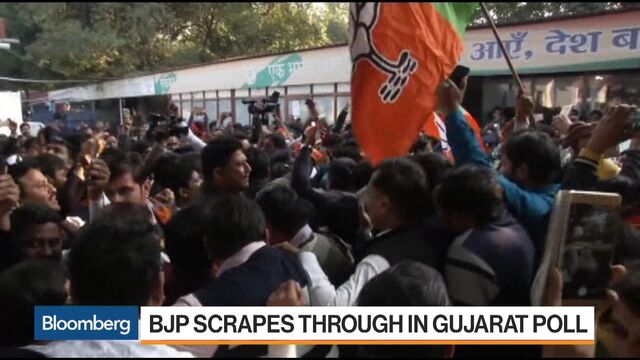 Indian assets were volatile in Monday trading, with steep stock losses giving way to gains as vote-counting from the Gujarat polls showed Prime Minister Narendra Modi's party is set to retain power in his home state.
The S&P BSE Sensex plunged as much as 2.6 percent as trading began. But then -- as the Bharatiya Janata Party gained ground -- the index reversed, surging more than 3.5 percent from the day's low. It closed at a two-week high, with a gain of 0.4 percent.

The BJP Party had won or was leading in 99 seats in the 182-seat Gujarat legislature as of 3:40 p.m. local time, according to the Election Commission of India. That's more than the 92 needed for a majority. The opposition Congress party had won or was ahead in 77 seats. The BJP had a vote share of 49.1 percent while it was 41.4 percent for the Congress.
Read: Modi Set to Retain Grip on Home State After Bellwether Vote
The BJP has held Gujarat for about two decades with Modi at the helm for more than 12 years. He used his stewardship of Gujarat as a launchpad for his national campaign in 2014, pledging business-friendly policies and development for all. However, last year's ban on high-value currency notes and this year's chaotic roll out of the goods and services tax has hit traders and textile workers in Gujarat.
"Traders are heaving a sigh of relief after a tumultuous opening session," said Soumen Chatterjee, head of research at Guiness Securities Ltd. "The BJP has clawed its way back into the Gujarat race and its victory is seen as a vote in favor of Prime Minister Modi's reforms agenda."
The rupee weakened 0.2 percent against the dollar as of 4:30 p.m., paring losses of more than 1 percent. The yield on 10-year government bonds climbed five basis points to 7.18 percent.
Before it's here, it's on the Bloomberg Terminal.
LEARN MORE