Saudi Budget Gap Falls Below 10% in 2017, Ministry Says
By
Deficit narrows to 8.9% of GDP this year from 12.8% in 2016

Kingdom is scheduled to announce 2018 budget on Tuesday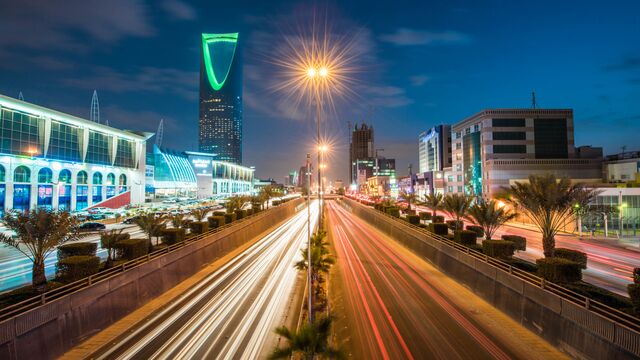 Saudi Arabia announced its budget deficit narrowed in 2017 to below 10 percent of economic output for the first time since the collapse in oil prices battered public finances, as the kingdom prepared to unveil what is expected to be an expansionary budget for next year.
The shortfall dropped to 8.9 percent of gross domestic product from almost 13 percent in 2016, the official Saudi Press Agency reported late on Monday, citing Finance Ministry official Yarub al-Thunyan. The decline is in line with the median estimate of 11 economists surveyed by Bloomberg.
A smaller deficit would be a welcome boost for the kingdom as it grapples with lower oil revenue after prices of crude plummeted in 2014, causing the budget deficit to surge to about 15 percent of GDP the following year. In response, authorities cut spending and introduced austerity measures including cuts to generous subsidies.
While the policies helped reduce the deficit, they also caused the worst economic slowdown since the global financial crisis. The Saudi economy is expected to contract 0.5 percent this year, according to the latest Bloomberg survey of 14 economists conducted this month.
SAUDI ARABIA PREVIEW: Budget Shift From Austerity to Stimulus?
The benchmark Tadawul All Share Index was little changed at 1:03 p.m., after rising 1.4 percent on Monday. That gain helped trim the index's decline this year to less than 1 percent, compared with a 31 percent gain for the MSCI Emerging Markets Index.
Private-Sector Growth
The detention of senior princes and businessmen last month in what authorities described as an anti-corruption campaign has raised business uncertainty at a time when the government needs international investment. Saudi Arabia's almost three-year war in neighboring Yemen, during which 14,000 people have been killed or wounded, is also seen as a drag on the economy.
Saudi officials have said next year's budget, set to be announced on Tuesday, will focus on measures to bolster growth and offset the impact of planned measures such as value-added taxation and additional cuts to fuel and electricity subsidies. The balance is crucial to the success of Crown Prince Mohammed bin Salman's plan to overhaul an economy long dependent on oil revenue and government spending.
The last week government announced a plan to spend 72 billion riyals ($19 billion) over the next few years to boost private-sector growth. A cash transfer program designed to shield needy Saudi families from the impact of subsidy cuts will start this month, and officials said they are unlikely to rush to balance the budget by 2019 as initially planned.
Before it's here, it's on the Bloomberg Terminal.
LEARN MORE