Oi's $19 Billion Debt Finale Is So Big It's at a Concert Venue
By
About 4,000 people expected to attend Rio de Janeiro assembly

Shareholders still fighting in court against proposal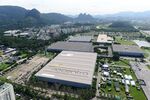 It's only fitting that Oi SA, after filing for the biggest bankruptcy protection in Brazil's history, is bringing its bitter 18-month restructuring battle to a crescendo with an epic creditors' meeting at a rock concert venue.
The venue for Tuesday's gathering of about 4,000 people is RioCentro, the Rio de Janeiro events and convention center near where Rock in Rio was held last September. Oi's trustee originally asked for the meeting to be held in October so it wouldn't overlap with the music festival, which would've created an incongruous traffic jam of creditors, lawyers and about 7,000 concertgoers.
Oi booked an entire pavilion at RioCentro -- 22,000 square meters (240,000 square feet) of space used in last year's Olympics for the boxing matches -- and has set up the venue for the meeting at least three times since then, only to be postponed by court orders. Two hundred registration and voting booths, a stage, thousands of chairs, 1,000 workers, a medical center and an ambulance will be at the ready -- all to ensure a smooth vote on Oi's ambitious plan to climb out of its pile of about $19 billion in debt.
Small Settlements
The Brazilian phone carrier has already settled with more than 30,000 of its 55,000 creditors. Those settlements involved claims of as much of 50,000 reais ($15,000). To accomplish this feat, the company built a website and held a marketing campaign to instruct debt holders on how to register and qualify for payment. Terms were relatively attractive, with 90 percent of the total debt paid upfront.

Negotiations with larger creditors haven't been so easy, requiring a year and a half of back-and-forth talks among bondholders, shareholders and the government. In Brasilia, Oi's fate has important political ramifications. The company owes money to the government but also operates the nation's largest fiber-optic network, with 330,000 kilometers (205,000 miles) of lines. Telecommunications regulator Anatel, which polices Oi's service quality, is the company's largest individual creditor, with 11 billion reais ($3.34 billion) in unpaid fines and other fees.

President Michel Temer's government created a task force led by Attorney General Grace Mendonca to negotiate the public portion of the debt. Anatel sought an injunction Monday, saying the terms of Oi's plan to pay for the fines and other fees are illegal under the current legislation and that, because of that, the regulator remains "suspended" from the proceedings, according to a copy of the document obtained by Bloomberg.
Winding Road
Along the way to Tuesday's vote, a chief financial officer and a chief executive officer resigned, among other executives. A tough board, led by businessman Nelson Tanure -- Oi's second largest investor -- tried to maintain control of the company while on the other side, well-known names of the distressed-debt world including Aurelius Capital Management and BlackRock Inc. fought for the upper hand.
It took a dramatic decision in court to break the deadlock. Near the end of November, Judge Fernando Viana decided that recently named CEO Eurico Teles would be solely responsible for negotiating and filing a restructuring plan for the company, without requiring the board's blessing. Teles, who was initially seen as a consensus pick to lead Oi, worked out a plan that gives bondholders as much as 75 percent of the company -- or even 90 percent if creditors take part in a 4 billion-real capital increase.
Creditors are expected to take up that proposal on Tuesday, but shareholders aren't giving up, filing complaints to Anatel, securities regulator CVM, the bankruptcy court, the attorney general and Brazil's public accounts watchdog TCU. They claim the plan is illegal and an aberration of Brazil's corporate law.
By the close of business on Monday, it wasn't clear whether one of the complaints would receive a ruling in time to stop the meeting. Lawyers, creditors and other interested parties in Sao Paulo and Brasilia were packing and getting ready to board flights to Rio for the meeting. After 18 months of theatrics, a dramatic conclusion may be in store.
Exotix Capital Analyst Rafael Elias said that even as the saga moves closer to resolution, the latest deal doesn't support the high price that Oi's bonds have been trading at.
"Our calculations still do not add up to a recovery level on par with where the bonds are currently trading," he said in a note to clients. "At current prices, the bonds reflect what we believe is somewhat unjustified optimism on the potential for the share price appreciation."
Oi's bonds due in 2020 have rallied almost 5 cents on the dollar this month and traded at 40.4 cents as of 10:43 a.m. in Sao Paulo. Based on Exotix's "best-case scenario," recovery can be expected in "mid-to-high thirties," Elias said.
— With assistance by Dave McCombs, and Sam Nagarajan
Before it's here, it's on the Bloomberg Terminal.
LEARN MORE