business
JPMorgan Says Ramaphosa No Magic Bullet for South Africa
By and
ANC balance of power key to gauge outlook for economic agenda

Zuma isn't going anywhere until 2019, may limit market gains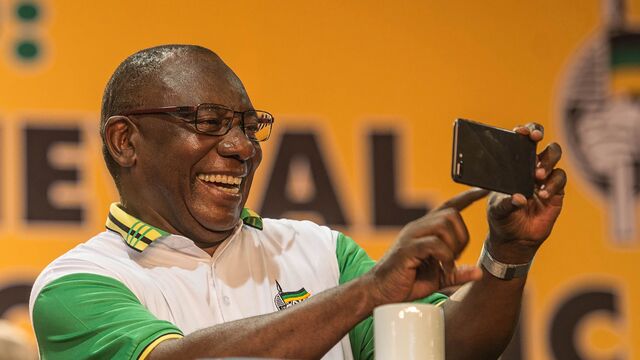 Investors cheering Cyril Ramaphosa's victory in South Africa's ruling-party elections may be getting ahead of themselves.
The reformist agenda of Ramaphosa does have the potential to help accelerate economic recovery, avoid a credit-rating downgrade and strengthen the currency, according to money managers including Credit Agricole CIB and JPMorgan Chase & Co. Yet, markets aren't factoring in the formidable challenges that could limit progress, they say.
The rand headed for its biggest two-day gain since 2015 and the benchmark equity gauge rebounded from a three-week losing streak. That optimism could prove overdone if the traditionalist faction of the African National Congress challenges Ramaphosa's win or President Jacob Zuma's supporters hinder the new leader's program.
"The market is getting ahead of itself," says Guillaume Tresca, a Paris-based strategist at Credit Agricole. "First, Zuma could remain president until 2019, which means there is a risk of negative political noise. Second, there could be a balance of power to keep the unity of ANC, so it could be less positive than earlier thought."
Other investors expressed similar views before Ramaphosa's election was formally declared:
Sonja Keller, strategist at JPMorgan, Johannesburg:

"Financial markets probably would anticipate Moody's holding off on a ratings downgrade in March next year. If the election results in a mixed slate with the top six new ANC leaders drawn from both the modernist and traditionalist camps, such expectations could be muted or indeed absent."

Burkhard Varnholt, deputy chief investment officer of Credit Suisse Group AG, Zurich:

"They need to re-install a strong and credible finance minister and monetary policy. Those were always the hallmarks of South Africa's economic policy. South Africa has certainly lost a lot of its punching power in recent years under the Zuma government, and most of that is most probably behind us."
"It's now about liberalizing again, cutting red tape, improving governance. There is too much corruption and all of that needs to be cut, and then South Africa can become the darling of Africa investors again as it once was. The crucial element in that equation should be the rand, which has suffered greatly and should encourage investors to move money back into the economy."

Nigel Rendell, senior analyst at Medley Global Advisors, London:

"He's not the answer to all of South Africa's problems. The government needs to reverse corruption that has impacted the nation over the past 10 years."

Julian Rimmer, an emerging-markets trader at Investec Bank Plc, London:

"The very fact of his paying lip service to the right things would give investors confidence."
But, "one has to be pragmatic and the best one can hope for is a positive trend in government and economic stewardship. The chances of South Africa looking like a first-class liberal market democracy 12 months from now, fully transparent with no whiff of corruption or wasteful spending is fanciful."

Paul McNamara, fund manager at GAM U.K. Ltd., London:

"We'll see the rand move fairly sharply weaker not least because it has strengthened quite a lot in the last few sessions on the view that Mr. Ramaphosa is going to win. I think the point is more that he is not Mrs Zuma rather than that he has some fantastic agenda."

Simon Quijano-Evans, strategist at Legal & General Investment Management, London:

"Politicians are under pressure to change and they are getting a reaction not just form the local electorate, but from markets. It will be pressure from both those angles that will force change."
— With assistance by Paul Wallace
(
Updates, prunes quotes, after Ramaphosa's victory.
)
Before it's here, it's on the Bloomberg Terminal.
LEARN MORE