Power Restored in Venezuela's Capital After Massive Failure
By and
Minister said power restored at 5:15 p.m. local time

Vargas state, parts of Miranda state also regained power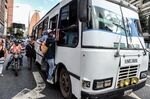 Electricity was fully restored to the Caracas metropolitan area after large sections of the Venezuelan capital lost electricity on Monday around noon, snarling traffic and forcing hundreds to evacuate office buildings, shopping centers and the Caracas subway system.
"As of right now at 5:15 p.m., I can announce that power has been restored to Greater Caracas," Electricity Minister Luis Motta Dominguez said on state television. Motta said authorities are continuing to work to restore electricity to subway and railway lines.
Blackouts were reported in the neighboring states of Miranda and Vargas, leaving Venezuela's largest international airport without power and grounding several flights. State power company Corpoelec said that a detached cable at a power generating station in Valles del Tuy was the source of the problem and that teams were working to fix the issue.
Congested mobile lines and spotty signals also meant Venezuelans in the capital were unable to communicate. Prolonged blackouts as well as water rationing have added to the daily hardships of Venezuelans who are struggling with hyperinflation and have to stand in long lines to buy basic goods.
Last year Venezuelan President Nicolas Maduro stepped up measures to reduce electricity consumption to stave off a full blown crisis, including rolling back a change to the nation's time zone that had been altered by his predecessor, Hugo Chavez, in 2007.
Before it's here, it's on the Bloomberg Terminal.
LEARN MORE