Merkel Won't Let Coalition Talks Hold Back Plans for EU Reform
By and
Chancellor vows to stick to 'ambitious' March timetable

Merkel seeking to build stable government for fourth term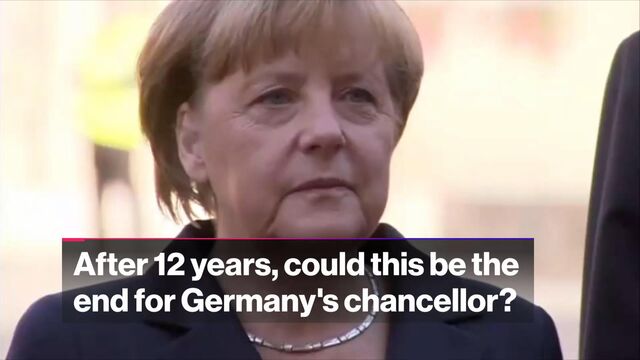 Chancellor Angela Merkel said she won't let talks with the Social Democrats on forming a coalition government interfere with an "ambitious" timetable for reforming the European Union.
Merkel wants exploratory talks between her CDU-CSU bloc and the SPD to be concluded by the middle of January and formal negotiations to take place "very quickly" as she seeks to end months of political uncertainty following September's general election.

European Union leaders agreed last week to reconvene in March and push ahead with efforts to strengthen the euro area, with Merkel vowing to find a common position with French President Emmanuel Macron by then.
"I just don't think it makes sense to seek a compromise with the French president first and then talk to possible partners in government afterward," Merkel said Monday in Berlin after meeting her party leadership. "That's the wrong way to go. In this respect, the timetable is ambitious, but it is also designed to be discussed with potential government partners."
Merkel's comments underscore her determination to cajole the SPD into a third "grand coalition" with her conservative group. That would allow her to avoid having to govern without a stable majority or face a risky new national election.
Coalition talks "must be held with the formation of a stable government as their goal, which means not having to vote with shifting majorities," Merkel said on Monday.
For more on Merkel's attempts to form a government, click here.
Some of the chancellor's regional allies also emphasized the need for a swift conclusion to negotiations, which are taking time to kick into gear with many Social Democrats wary of another tie-up.
The SPD's internal struggles are understandable after the party suffered an historic setback in the September ballot, Volker Bouffier, CDU state premier in Hesse, told reporters in Berlin on Monday.
"It's important that we negotiate quickly now," Bouffier said, adding that talks could begin on Jan. 7 or Jan. 8. "The people expect a stable government to be formed and the Union is ready for it."
'Take Responsibility'
Bouffier said he hopes that SPD leaders will be able to convince their rank and file members to back a coalition of Germany's two biggest parties and respond to President Frank-Walter Steinmeier's call for political responsibility.
Daniel Guenther, CDU state leader in Schleswig-Holstein, said that while he's just as reluctant as many in the SPD to join another grand coalition, Germany's centrist parties must now "take responsibility" and define a number of key projects that can move Germany forward.
"Everyone would be well advised to look each other in the eyes and decide very quickly: Is this is a serious negotiation, do we want to be successful in the end?" Guenther told reporters in Berlin on Monday.
SPD head Martin Schulz said on Friday Germany's oldest party wants to "contribute to an outcome that produces a stable government for Germany within a reasonable time."
He didn't specify whether that contribution would mean a formal coalition or support for a minority government led by Merkel. The chancellor has been running Europe's biggest economy in a caretaker capacity since September and saw attempts to enlist the Free Democrats and the Green party collapse last month.
Before it's here, it's on the Bloomberg Terminal.
LEARN MORE