Macron Appeals to French Exceptionalism as 40th Birthday Looms
Helene Fouquet, Gregory Viscusi and Mark Deen
Poll has president's popularity rising seven months into term

Economic reforms will take two years to bear fruit, he says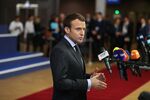 President Emmanuel Macron sought to appeal to the French idea of their country as exceptional in his second major television interview since taking office, saying that voters' decision to elect him distinguishes France in a turbulent world.
"By choosing in May to elect a 39-year-old president, with no political party, that no one knew of, who came out of nowhere -- the choice our country has made -- that's a choice that no other country has made," he said late Sunday, directly invoking his youth within days of his 40th birthday. "France is only itself when it carries a real European vision and a real determination to pull the world towards the future."
Seven months into a five year term, multiple polls show Macron's popularity climbing as the president struts on the international stage on matters from climate change to conflict in the Middle East, while reaping the benefits of an economy that is growing at its fastest pace in half a decade.
Macron's approval rating jumped 6 points to 52 percent in an Ifop poll for Le Journal du Dimanche. That's a gain of 10 points in two months as he recovered from a series of gaffes made over the summer months and a focus on budget cuts as people returned from holidays in September.
The president, who won power in May in his first bid for elected office, held a birthday celebration before the fact at the French chateau of Chambord with his family this weekend. Though he paid for the event himself, the celebration drew controversy anyway as critics in the media and on social networks accused him of regal tendencies. His office says no further festivities are planned for Thursday, his actual birthday.
In a 40-minute interview with France 2 television that was recorded last Tuesday, Macron defended his actions, saying that the economic reforms his government is pushing through will take two years to bear fruit. "It takes time," he said.
While the French economy will expand about 1.8 percent this year, unemployment remains stuck at just under 10 percent, roughly double the level of the U.K. and Germany. The jobless rate actually rose in the third quarter to 9.7 percent.
Discussing the Middle East, Macron sought to strike a more pragmatic stance than his predecessor on Syria, saying that Bashar al-Assad is still in power because of his Russian and Iranian backers, and France must accept that reality as it seeks a political settlement. Still, he said Assad must eventually "answer to his people and to international justice.'
Explaining his campaign to fight climate change, he admitted that he hasn't always been a major proponent of the cause but that he is now convinced it is the right one. President Donald Trump's decision to withdraw from the Paris climate accord was the wrong one for the U.S. and for the world, he said.
"I want France to become the leader of environmental transformation," Macron said. "One has to choose his battles. My priority, in France, in Europe and globally, is carbon emissions and climate warming."
Before it's here, it's on the Bloomberg Terminal.
LEARN MORE