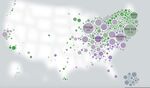 Mapping displacement: On paper, the U.S. government's urban renewal projects of 1950s and '60s aimed to tear down blighted slums and replace them with affordable housing. But in practice, the strategy ended up displacing hundreds of thousands of city residents, as a new mapping tool helps illustrate. National Geographic reports:
In many places, there was a net loss of housing as city leaders decided instead to build offices or shopping malls, or to expand hospitals and universities. Urban renewal projects displaced more than 300,000 people between 1955 and 1966, and the burden fell disproportionately on people of color, according to a new analysis by the Digital Scholarship Lab at the University of Richmond, which has created a new website called Renewing Inequality packed with interactive maps and statistics on urban renewal projects.

"What we've captured undoubtedly underestimates the number of people who were displaced," says Robert Nelson, the lab's director.
Uber's spy tactics: A bombshell court filing details the clandestine methods Uber allegedly used to thwart competitors, including hacking computers, recording conversations, and impersonating people. The fresh details from a former Uber security analyst came out as part of the high-profile Waymo vs. Uber trial. (AP)
Suburban revolt: In metro areas from Seattle to Houston, suburban districts that were once GOP bastions are looking now to Democratic candidates to oppose President Trump. Some experts say the recent high-profile wins in New Jersey, Virginia, and Alabama were just the beginning. (New York Times)
"Lifesaver or distraction?" Illustrating the elusiveness of solutions for the U.S. opioid crisis, the Associated Press highlights two neighboring Ohio police departments with completely opposite stances on the use of Narcan, the popular nasal spray overdose antidote.
RV rise: Bay Area cities are realizing that parking tickets can't begin to solve one growing side effect of the region's housing crisis: an influx of RV dwellers seeking permanent places to park. (Mercury News)
City mash-up: Inspired by Disney's San Francisco-Tokyo hybrid in Big Hero 6, Expedia has paired up 14 more cities in an illustrated series of fantasy mash-ups, including "Rio Londoneiro" and "Dubaris." (Lonely Traveler)
The urban lens:
Share your city on Instagram using #citylabontheground.