Israel Not Aiming to Punish Teva on Job Cuts, Official Says
By and
Will work with drugmaker to keep more jobs in Israel, he says

Critics of dismissals want government to rescind tax breaks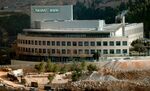 The Israeli government isn't considering punitive measures against debt-strapped Teva Pharmaceutical Industries Ltd. over its plan to fire a quarter of its Israeli work force, according to an official close to Prime Minister Benjamin Netanyahu. He also ruled out a bailout.
Instead, Israeli leaders will work with the world's largest generic drugmaker to reduce the number of dismissals by offering government help where possible, the official said, speaking on condition of anonymity because he wasn't authorized to comment publicly. He didn't give details of possible government assistance, citing a planned meeting between Netanyahu and other senior Israeli officials with Teva CEO Kare Schultz later this week.
The company has already received billions of dollars in tax breaks meant to encourage investment.
Popular resentment that employees will have to pay the price for management errors has created an uproar in Israel, where the company once held a legendary status as the country's only multinational corporation and a symbol of its entrepreneurial spirit. Its stock was once known as "the people's share" because of its prominence in pension funds.
Some Israeli critics of Teva's cost-cutting plan have called on the government to rescind the tax breaks. The drugmaker has received 22 billion shekels ($6.3 billion) in benefits since 2006, according to Avi Nissenkorn, the chairman of Israel's Histadrut national labor federation, who is leading the fight against the local dismissals.
Share Drop
Teva shares were little changed at $18.62 as of 10:41 a.m. in New York, paring its decline this year to 49 percent.
The company didn't immediately respond to a request for comment. Teva's plan to cut 1,700 jobs in Israel is part of a broader program that includes firing 14,000 employees worldwide and cutting expenses by $3 billion over the next two years.
While investors and analysts welcomed the turnaround plan, they've been wary of political blowback in Israel that could undermine the company's efforts. The official close to Netanyahu said the government understands the company's predicament, and noted that the prime minister takes a free-market approach. He also said the government wouldn't "save" Teva.
Netanyahu will ask Schultz in Tuesday's meeting to close a plant in Ireland, in lieu of one in Jerusalem that employs 800 workers, the Hebrew business daily Globes reported, citing a senior government official.
Troubled Acquisition
Teva is struggling to pay back $35 billion of debt it accumulated after paying $40.5 billion for Allergan Plc's knockoff medicines unit in 2016. The deal was supposed to cover the loss of revenue after competitors started selling cheaper copies of Copaxone, the multiple sclerosis injection that generated a fifth of company sales last year. Instead, profit margins continue to fall for generic drugmakers in the U.S., the world's biggest market, and Teva cut its profit forecast a third time in November, pointing to the new competition to Copaxone.
And while Teva's troubled buying spree after longtime CEO Eli Hurvitz retired in 2002 inflated annual revenue past $20 billion, it also left the company with an unwieldy network of about 90 plants spread around the world. 
Previous attempts to cut Teva's costs at home have foundered. Jeremy Levin, the last Teva CEO to try reducing headcount in Israel, ran into fierce resistance from the labor federation and some Israeli members of the company's board, leading to his own dismissal after 18 months. 
Israel's labor union shut down a large part of the economy in a half-day strike on Sunday, and Teva workers who idled some facilities on Monday are to walk off the job at all sites on Tuesday. Nissenkorn said the biggest battle is to limit the number of dismissals in Israel, rather than block the entire process.
Quotes from this Article
Before it's here, it's on the Bloomberg Terminal.
LEARN MORE