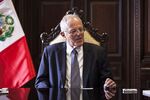 Seven weeks after Peru's president dodged impeachment, the opposition is considering another attempt. Two parties have drafted impeachment motions that accuse Pedro Pablo Kuczynski of lying about his ties to Odebrecht SA, the Brazilian builder at the center of the continent-wide kickback and corruption investigation dubbed Carwash. Kuczynski's decision, just three days after surviving the Dec. 21 impeachment vote, to pardon former autocrat Alberto Fujimori won him some new allies but more enemies, leaving his 18-month-old government in a precarious position.
1. What is Kuczynski accused of, exactly?
Opposition lawmakers accuse the 79-year-old Wall Street veteran of lying to Congress about an alleged conflict of interest during 2004-2006, when he was finance minister and cabinet chief. A company Kuczynski owned, Westfield Capital Ltd., was hired by Odebrecht to advise on financing for infrastructure projects it won from the government. Recent news reports say prosecutors have information indicating Kuczynski may have known about Westfield's work for Odebrecht.
2. How did Kuczynski respond?
He's said he had no knowledge of Westfield's dealings with Odebrecht while he held office because he handed over the firm's running to a business associate. He acknowledged that, as sole shareholder of Westfield, he later received a dividend from the services it provided to Odebrecht. But he denies granting any favors to Odebrecht while he was in government.
3. What might the opposition be after?
The government accuses the leftist parties leading the latest impeachment attempt, Broad Front and New Peru, of seeking to punish Kuczynski for freeing Fujimori and to position themselves ahead of local elections in October. The largest party in Congress, Popular Force, has been pressing for Kuczynski's resignation since before December's impeachment vote. It's also seeking to oust the attorney general and to remove justices from Peru's highest court.
4. Has releasing Fujimori helped Kuczynski's odds of survival?
Hardly. One of the leftist parties that didn't vote for impeachment in December is now seeking to oust him. The timing of the pardon sparked allegations that Kuczynski approved the measure in exchange for support from Fujimori loyalists during the impeachment vote. Though Kuczynski denied it, opinion polls suggest the public doesn't believe him. While he now has the support of 10 lawmakers led by Fujimori's son, Kenji, Kuczynski's position is, in the view of many, more untenable than ever.
5. How does impeachment work in Peru?
The opposition is using an article of Peru's constitution that allows Congress to force out the president if they declare him "permanently morally incapable." The motion requires 26 signatures to be put to an initial vote on the floor of Congress, which comprises 130 seats. Should the motion obtain at least 52 votes in a first reading, lawmakers can hold a second and final vote just three working days later, where it needs 87 votes to pass. The ouster takes effect as soon as Congress informs the president or the cabinet chief.
6. How soon could the motion be put to a vote?
Congress is in recess until March 1, which will likely slow the process down. To hold a vote before then would require at least 78 lawmakers to request two extraordinary sessions. The two parties proposing motions, Broad Front and New Peru, together have 20 seats and plan talks with other opposition lawmakers this week to garner support. Only one of the motions can proceed. Two parties, Popular Force (61 seats) and Alliance for Progress (8 seats), have said they'll support an impeachment motion provided the charges are related to corruption. Popular Action (5 seats) says there's not enough evidence to justify starting new proceedings for now while Apra (5 seats) opposes the proposals.
7. Who takes over if the president is ousted?
First Vice President Martin Vizcarra would replace Kuczynski as Peru's leader until 2021, when the government's mandate expires. Opposition lawmakers have said they support Vizcarra taking over. If he declines, the responsibility would pass to the second vice president, Mercedes Araoz. If she also declines, the speaker of Congress would call a general election and lead the government on a temporary basis. With or without Kuczynski, the government risks turning into a lame duck, while the opposition may be better placed to consolidate power ahead of local elections in October 2018 and presidential elections in 2021.
The Reference Shelf
A QuickTake explainer on the Carwash investigation.
A Bloomberg View column on December's impeachment attempt
A Bloomberg News story on the president's cabinet reshuffle last month
Before it's here, it's on the Bloomberg Terminal.
LEARN MORE