Five Things You Need to Know to Start Your Day
Get caught up on what's moving markets in Asia.
By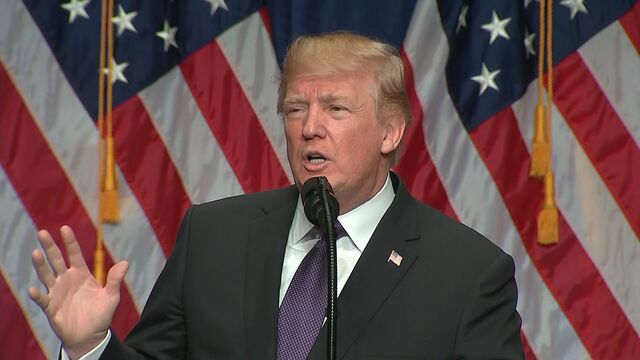 Want to receive this post in your inbox every morning? Sign up here.
Trump takes hard line on China, an Aussie currency clash, and stocks rally on tax reform. Here are some of the things people in markets are talking about.
Trump Tough on China
President Donald Trump declared that the U.S. would pursue a muscular foreign policy reflecting his "America First" campaign promise in a speech introducing his first national security strategy document. The national security strategy, mandated by Congress, describes the Trump administration's approach to a range of global challenges including North Korea's nuclear program, international terrorism, Russian aggression and China's rising influence. The document is tough on both China and Russia, which it describes as "revisionist powers" seeking to upend the global status quo in which the U.S. is the world's only superpower. But Trump was more conciliatory in his speech, describing the two nations as both potential rivals and partners.
Aussie Currency Clash
Two of the largest asset managers in Australia are at odds over whether the Aussie will drop below 70 U.S. cents next year. Brisbane-based QIC Ltd., which oversees the equivalent of $63 billion, says the Aussie will slide under that level by mid-2018 due to yields on the nation's bonds falling below that on U.S. Treasuries. On the other hand, AMP Capital Investors Ltd., which manages about $137 billion, says it will stay above 70 cents due to China's robust economy and a tailwind from commodity prices. For background, Australia's dollar has tumbled about 6 percent from this year's high reached in September, as the premium on its two-year notes disappeared last month for the first time since 2000. The Reserve Bank of Australia isn't likely to raise interest rates from a record-low 1.5 percent any time soon due to mixed economic data, while the Federal Reserve has increased its benchmark five times since December 2015 to reach a similar level.
Markets Rise on Tax Reform
U.S. stocks kicked off the week on the upswing after Republicans reached an agreement on the shape of U.S. tax cuts, with the S&P 500 Index and Nasdaq Composite Index hitting new highs. Midweek votes in the U.S. House of Representatives and Senate are planned on a measure that will reduce corporate and individual tax rates, and lawmakers are aiming for the bill to land on President Donald Trump's desk for a signature before Christmas. Elsewhere in the U.S., the dollar dropped and Treasuries headed lower. In Europe, the Stoxx Europe 600 Index climbed the most in about five months as real estate, automakers and technology stocks led gains, while sterling advanced as U.K. Prime Minister Theresa May addressed Parliament about her plans for Brexit. Bitcoin traded above $19,000 after futures debuted on CME Group Inc.'s venue, the world's biggest exchange.
All Eyes Remain on Washington
Traders' eyes will be firmly on the U.S. capital for much of this week as the race to pass Trump's tax reform bill before the end of the year goes down to the wire. We may also see a relaxation in the volatility that ran through EM on Monday as politics came to the fore in India, South Africa and Chile. The rand surged as much as 4.4 percent as Cyril Ramaphosa was elected the next leader of the ruling African National Congress party. China watchers will probably be keeping an eye out for HNA Group after Citic Bank said a unit of the conglomerate is struggling to meet short-term obligations. As Tuesday moves on, U.K. Prime Minister May will sit with her cabinet and hash out what the government sees as the end goal of Brexit, while the U.S. sees data on housing starts and building permits.
Tencent, JD.com Tag Team
Tencent Holdings and JD.com are buying a stake in one of the largest online retailers in China in an attempt to take on Alibaba in e-commerce and digital payments. The pair agreed to buy shares in U.S.-listed Vipshop Holdings, which comes with a business cooperation pact that includes setting aside real estate for Vipshop on JD's site and Tencent's digital wallet, a thriving and integral part of the WeChat messaging service. Vipshop shares surged as much as 49 percent Monday on the news. Part of the reason Tencent decided to invest jointly with JD may have been due to Alibaba's growing dominance in online shopping. Alibaba is spending billions on physical retailers, which in turn drive online traffic and serves up valuable data for advertising.
What we've been reading
This is what caught our eye over the last 24 hours.
— With assistance by Garfield Clinton Reynolds
Before it's here, it's on the Bloomberg Terminal.
LEARN MORE