markets
Fed's Kashkari Says Flatter Yield Curve Helped Motivate Dissent
By
Minneapolis Fed chief says rate increases suppressing wages

Warns flatter yield curve could signal rising recession risks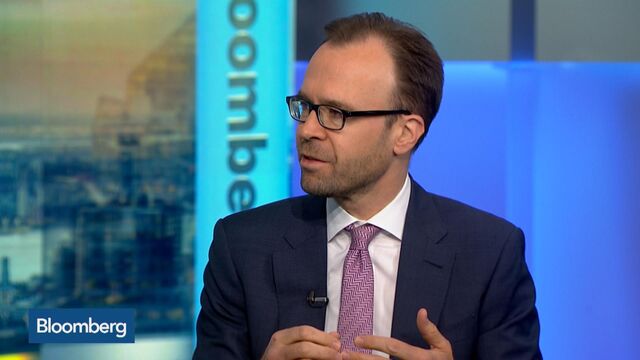 Federal Reserve Bank of Minneapolis President Neel Kashkari said low inflation, continued weakness in wages and a flattening yield curve motivated his dissent last week against the U.S. central bank's decision to raise interest rates for a third time in 2017.
"Continuing to raise rates in the absence of increasing inflation could needlessly hold down wage growth while potentially increasing the chance of a recession," Kashkari said Monday in a statement explaining his third dissent this year. "While the yield curve has not yet inverted, the bond market is telling us that the odds of a recession are increasing."
Kashkari and Chicago Fed President Charles Evans voted against the rate rise at the end of the Dec. 12-13 Federal Open Market Committee meeting in Washington. Evans said Friday he dissented over concerns that consumer inflation expectations -- considered by economists a crucial determinant of future inflation -- have fallen.

Fed officials have been struggling to understand a soft patch in inflation this year and generally tepid wage gains, despite a booming job market that has pushed unemployment to a 16-year low of 4.1 percent. Most policy makers, led by Chair Janet Yellen, have stuck with the view that inflation has been checked by transitory price drops, and that low unemployment will eventually push up wages.
Kashkari repeated his concern over low price growth, which he voiced in past dissents, but added his worries over the narrowing gap between the yields for long- and short-term Treasuries. Instances of long-term yields rising higher than the short end have been a reliable indicator in the past of impending recession, he said.
"In response to our rate hikes, the yield curve has flattened significantly, potentially signaling an increasing risk of a recession," Kashkari said in his statement. "Together, these factors make a compelling case that the FOMC should not increase rates further until we are much more confident that inflation is returning to our target."
At her press conference following the conclusion of the FOMC meeting on Dec. 13, Yellen dismissed concerns over a flatter yield curve, saying it was mainly due to higher short-end rates and historically low long-term inflation expectations.
Before it's here, it's on the Bloomberg Terminal.
LEARN MORE