business
China Orders Big Oil Firms to Cut Own Gas Use to Ease Shortfall
By
NDRC asks firms to cut gas use by 15 million cubic meters/day

Move to have limited impact on refined fuels supply: analyst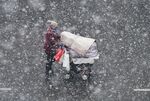 China has ordered the country's biggest explorers to cut their use of natural gas to divert more of the fuel to the north, where a harsh winter is causing shortages.
China National Petroleum Corp., China Petrochemical Corp. and China National Offshore Oil Corp. should reduce the consumption of natural gas in their refineries, oil drilling and liquefied natural gas factories to secure more supplies for residential use, National Development and Reform Commission official Meng Wei said at a press briefing in Beijing on Monday. The three companies should collectively cut gas consumption for their own use including to petrochemical factories by 15 million cubic meters a day, he said.
China has been scrambling to secure more gas for residential use after the country's push to implement coal-to-gas conversion projects led to an unprecedented increase in consumption of the fuel and caused shortages in northern provinces such as Hebei and Shandong. Some regions have been allowed to burn coal after shortages of natural gas left people without heating amid freezing winter temperatures.
Switching industrial and residential users to gas pushed demand up 19 percent during the first 10 months of the year, according to data from the NDRC.
Limited Impact
The new policy may have a limited impact on China's supply of refined fuels as the country has already produced more than it can consume, said Tian Miao, a Beijing-based analyst at Sun Hung Kai Financial Ltd.
"As a result of overcapacity, China's refiners may reduce oil-product export during winter months, but domestically, I don't see any impact to the fuel market from this short-term measure," Tian said. The restriction will be lifted once winter is over and gas supply comes back to normal, she said.
China's oil processing in November inched up to another record amid start ups by new facilities and as independent refiners ran at the highest in a year to meet rising diesel demand. Refiners processed about 12.08 million barrels a day in November, about 0.2 percent up from October and 8 percent higher than a year ago, according to Bloomberg calculations based on data from the National Bureau of Statistics.
China Petrochemical, the world's biggest refiner, will strictly limit the industrial use of natural gas and will prioritize residential use, a Beijing-based spokesman said in an emailed response, without directly addressing the impact of the policy.
CNPC and China National Offshore's Beijing-based spokespersons couldn't be immediately reached for comment.
Before it's here, it's on the Bloomberg Terminal.
LEARN MORE