Chilean Assets Surge After Pinera's Win Boosts Investor Confidence
By and
Benchmark IPSA closes near record high, led by builder stocks

Peso strengthens to two-month high and bond yields fall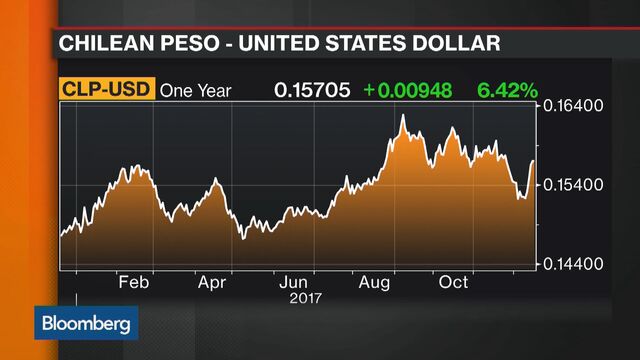 The value of Chilean assets surged in the wake of pro-business Sebastian Pinera's victory in the second round of the presidential election, which boosted investor confidence in higher growth and greater investment. The stock market recouped losses of the last month and closed near record highs.
The IPSA ended trading with a 6.9 percent gain to 5,581.43, its biggest gain since 2008 and a mere 13 points shy of a record high reached in October. The peso, meanwhile, strengthened 2.4 percent to 621.42 per dollar, its strongest level in two months and the best performer in emerging markets after South Africa's rand. The benchmark yield on 10-year inflation-linked government bonds fell four basis points to 1.95 percent.

Sebastian Pinera, a 68-year-old billionaire who led the South American country between 2010 and 2014, won 54.6 percent of the vote yesterday in a second round against pro-government candidate and senator Alejandro Guillier, who got 45.4 percent. It was a wider-than-expected win for Pinera, after he mustered just 36.6 percent of support in November's first round of voting.
The IPSA fell 9.3 percent after the first vote until Dec. 6, when it began to recover. Since then, the benchmark has gained 15 percent.
Pinera sees himself as a guardian of the free-market economic model that has more than quintupled gross domestic product per capita in the past 30 years, helping living standards in Chile leapfrog countries Argentina and Brazil. He is now pledging to cut corporate taxes and ease industry regulation in an attempt to more than double growth and create 600,000 jobs. He won't throw out President Michelle Bachelet's reforms, but he will provide a new pro-growth tone to government.
Banks are increasing estimates for the local stock market after Pinera's comfortable victory. Citigroup Inc. sees the IPSA reaching 6,000 by the end of 2018 with valuations staying higher for longer, while JPMorgan Chase and Co. reiterated its view that economic growth will accelerate to 2.9 percent, from a lackluster 1.5 percent expected this year.
Local brokerage firms LarrainVial, BICE Inversiones and Inversiones Security modified their portfolios of top local stock picks to favor those names with exposure to the domestic economy, including retailers and construction companies.
Builders Besalco SA and Salfacorp SA gained 29 and 21 percent, respectively. Inversiones La Construccion SA, which owns stakes in pension fund companies and health insurance, closed 18 percent higher.
"We expect his presidency to be a period of market-friendly policies, with concentration on investment, employment, and economic growth, factors which were not main features or policy priorities in the present government," BTG Pactual said in a note to clients today. "The next market milestone will be the announcement of the cabinet, which we would expect sometime in January."
Quotes from this Article
Before it's here, it's on the Bloomberg Terminal.
LEARN MORE