Photographer: Cole Bennetts/Bloomberg
Australia Sees Narrower Budget Gap, Reaffirms 2021 Surplus
By and
Fiscal shortfall improves by A$5.8 billion since May budget

Wage projections are slightly lower than six months ago
Australia's government forecast a narrower budget deficit this fiscal year as swelling corporate profits boosted the tax take, even as weak wage growth weighed on collections.
The underlying cash deficit in the 12 months through June 2018 will be A$23.6 billion ($18 billion), compared with a May forecast of A$29.4 billion, Treasurer Scott Morrison said in a half-yearly update. While growth and wage estimates were shaved, the books are still forecast to return to the black in 2021.
See the government's updated budget estimates here
"The Treasurer is on the highwire and must balance the government's fiscal responsibilities with its desire to defend the personal tax scales against bracket creep," said Mark Molesworth, tax partner at accounting firm BDO. "Other reforms, designed to make the system as a whole more efficient at collecting revenue and less of a drag on business, should be pursued."

In an interview with Bloomberg TV on Monday, Morrison said the prospect of income tax cuts for Australians, as previously flagged by Prime Minister Malcolm Turnbull, was still a "totally realistic" goal.
"That's what we're now focusing our attention on. We want to put more back in the pockets of households on middle incomes," he said, adding that would be the focus of the government's efforts "between now and going into next year."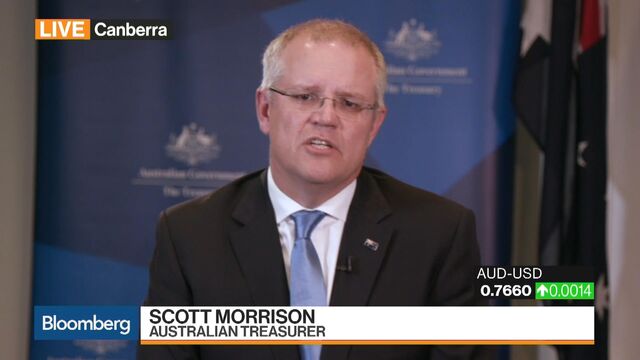 Net debt is now expected to peak in 2018-19 at 19.2 percent of gross domestic product, a 0.6 percentage point drop on the May estimate. For the first time since the financial crisis, the government will no longer be borrowing to pay for recurrent expenditure, Morrison said in an earlier statement.
Key Details:
GDP growth forecast for 2017-18 is 2.5% versus 2.75% seen in May budget
Unemployment forecast at 5.5% versus 5.75% in May
Wage price index forecast to increase 2.25% compared with 2.5%
CPI forecast to rise 2% in 2017-18, matching May estimate
Iron ore price is assumed at $55 a ton over forecast period
Australia has run a deficit every year since the 2008 global financial crisis -- a period that encompassed soaring iron ore prices and a once-in-a-century mining boom, followed by the unwinding of that investment as supply increased. The fiscal picture brightened this year following a record run of full-time hiring and a rebound in commodity prices that lifted company profits.
Authorities have been plagued by over-optimistic forecasts for the economy that then had to be revised lower. Morrison has taken a more cautious approach and is now benefiting from rare better-than-expected results.
The economy is underpinned by record-low interest rates at 1.5 percent that are paying off as business gains in confidence, hiring more people and increasing investment. Yet on the other side of the equation, Australians are carrying record debt and with wage growth at recession-era lows, could result in a clampdown on spending. That would resonate across the economy given consumption accounts for more than half of GDP.
"Our growth story remains a compelling one, and although real GDP growth has
been slightly tempered in 2017-18, the trajectory is upward," Morrison said in Canberra Monday. "Our economy is strengthening. Growth and jobs are rising."
— With assistance by Kanika Sood, Kimberley Painter, and Yousef Gamal El-Din
Before it's here, it's on the Bloomberg Terminal.
LEARN MORE