markets
As Topix Reclaims 26-Year High, Investors Bet on Tech Comeback
By
Japan's 'sunrise' stocks fell amid global technology selloff

Citi Private Bank, BlackRock, Pictet see declines as fleeting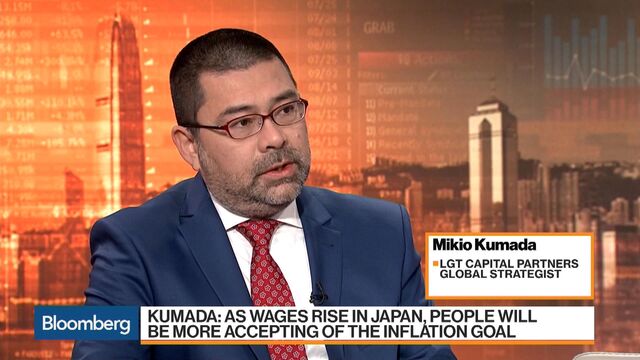 As Japanese stocks overcame last month's downturn to return to their highest in 26 years, the rally found a new driver: bank shares, which took over from the technology companies that led the charge for most of 2017.
Mitsubishi UFJ Financial Group Inc. and Sumitomo Mitsui Financial Group Inc., the country's largest lenders, were the biggest contributors to the Topix index's advance from mid-November, as the benchmark equity gauge recovered from a drop of more than 4 percent to close Monday at the highest since November 1991. Lenders came into favor as the Federal Reserve moved to raise interest rates, which helps their profitability, and investors dumped technology shares amid a global industry selloff.
For some traders, that raised questions about the outlook for companies such as the so-called Sunrise stocks -- Sony Corp., Recruit Holdings Co., Nintendo Co. and SoftBank Group Corp. -- Japan's equivalent of the FANGs in the U.S., which provided much of the Tokyo market's joy in 2017. But for Citi Private Bank, those shares will make a comeback.
Selling of technology stocks is "going to be a temporary phenomenon," said Ken Peng, an investment strategist at the bank in Hong Kong. He pointed to the companies' potential for sustained strong earnings.

Japanese technology shares have retreated since since last month as investors rotated out of the sector. Nintendo has lost almost 10 percent from its November high, while Sony is down 4.6 percent from its peak earlier that month. SoftBank, meanwhile, has slid 13 percent from its high on Oct. 30., hit harder than the others after e-commerce giant Rakuten Inc. said it would enter the telecommunications business. Only the staffing agency Recruit -- dubbed one of the Sunrise shares because of its human resources technology business -- has fully recovered, closing Monday at its highest on record.
Despite those declines, Sony, Nintendo and Recruit are still three of the four biggest contributors to the Topix's advance this year. The fourth company is Keyence Corp., a maker of factory-automation equipment whose shares were also sold in November. They've surged an average of almost 70 percent this year, paving the way for Topix's best annual performance since 2013.
There are reasons for Peng to be optimistic that the technology stock declines won't last. Sony raised its annual operating-profit outlook to a record last month on demand for high-end 4K televisions and wider use of camera chips. In October, Nintendo increased its forecast for sales of its Switch console to 14 million units from 10 million. And staffing-company Recruit has seen strong earnings in human resources technology, driven partly by Indeed Inc., the U.S. operator of a search engine for jobs that it required in 2012.
As well as the Sunrise stocks, companies involved in the world of robots had been surging in 2017 before the November selloff. Even after that, Osaka-based maker of factory-automation sensors Keyence is up more than 60 percent this year, while Yaskawa Electric Co., which produces motors and controllers for industrial robots, has soared 170 percent. Investors have bought the companies' shares amid Japan's tightest labor market in decades.
BlackRock, Pictet
The world's largest money manager gave technology stocks a vote of confidence Monday, while saying it also likes financial shares. BlackRock Inc. said it remains overweight Japanese equities in general, citing a global economic recovery, "solid" earnings and "relatively attractive" valuations. The economy will probably continue to grow gradually, while its central bank is unlikely to alter its current super-easy monetary policy next year, it said.
The Topix is up 20 percent in 2017, a year in which it was less dependent on the currency for its gains: the yen has fallen less than 4 percent against the dollar. Aside from November's declines, it's been a calmer year for the country's equities, with the Topix falling posting just one daily drop of more than 2 percent. Last year, it did so more than 20 times.
Pictet Asset Management Ltd., which oversees almost $500 billion, agreed with BlackRock's assessment of which industries to buy, saying technology stocks will get over their slump and financial firms will continue their advance.
"The broad overall trend hasn't changed," said Hiroshi Matsumoto, head of Japan investment at the money manager, who said he remains positive on Japanese equities. "You either buy banks or technology stocks."
— With assistance by Keiko Ujikane
Before it's here, it's on the Bloomberg Terminal.
LEARN MORE