politics
Teva CEO to Meet Netanyahu With Blunt Message on Need for Cuts
By , , and
Netanyahu vows to soften impact of Teva's planned job cuts

Employees block traffic, burn tires in Jerusalem protest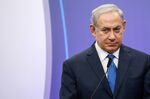 Teva Pharmaceutical Industries Ltd. Chief Executive Officer Kare Schultz will likely deliver a blunt message to Israeli Prime Minister Benjamin Netanyahu and his government in meetings this week: swallow the bitter job cuts medicine or the patient will get worse.
The highest echelons of the government are huddling to limit the scale of the planned layoffs at Teva, the drugmaker once considered Israel's corporate crown jewel. Netanyahu on Sunday said his government will do its utmost to blunt the impact of job cuts as the debt-saddled company carries out a restructuring plan.
Netanyahu stepped in after the newly hired Schultz announced plans last week to slash 25 percent of Teva's workforce and suspend dividends, aiming to cut $3 billion in costs and whittle down a debt pile more than twice the size of Teva's market capitalization. On Sunday, striking workers idled Israel's international airport, government offices, banks and stock market for half a day, pressing to scale back Teva's plan to cut 14,000 jobs, including 1,700 in Israel. 
Hundreds of Teva employees blocked the entrance to the finance ministry on Monday, holding signs calling to save their jobs, ahead of a meeting between Moshe Kahlon, the minister, and Avi Nissenkorn, the chairman of Israel's national labor union Histadrut. Protesting employees tied up morning rush-hour traffic Sunday and burned tires outside a Jerusalem factory, while some barricaded themselves inside. 
'Factory Bleeding'

The government is considering a grant to Teva that would enable it to cut fewer Israeli jobs, the Haaretz newspaper said, without saying how it got the information.
In Israel, Teva had been viewed with pride for decades as the country's only corporate giant by global standards, and so many Israelis own Teva shares that it's referred to as "the people's stock." One of the world's biggest generic-drug makers, it's also one of Israel's biggest employers. As a symbol of Israel's entrepreneurial spirit, its meltdown is therefore seen as much more than just another failed business.
A walkout that the Histadrut labor federation called Sunday in solidarity with Teva employees lasted until noon.
"Our factory is bleeding and the situation is bleak," Teva union leader Itzik Ben-Simon told Israel Radio.
The company is monitoring the protests and seeking to minimize any effect on operations, spokesman Yonatan Beker said by phone.
Bad Deal
Teva has been struggling since it paid almost $41 billion last year to acquire Allergan Plc's generics unit, a deal that failed to yield the anticipated sales boost. Compounding the problem is the loss of its monopoly on Copaxone, a multiple-sclerosis drug that at one point generated half of Teva's profits.
Teva shares were little changed on Monday in Tel Aviv trading, after jumping 13 percent on Dec. 14 when Schultz outlined the restructuring plan. Teva's American depositary receipts rose 10 percent Dec. 14 in New York and 8 percent the following day.
The drugmaker, whose expenses will total $16.1 billion this year, said most of the cost reduction will take place in 2018. It also will record a restructuring charge of at least $700 million.
Schultz said his top priority is to bring Teva's leverage below 4 times Ebitda, or earnings before interest, taxes, depreciation and amortization, by the end of 2020. The ratio was 4.7 last quarter. The proposals include paying down $4 billion of bank loans within a "relatively short" period, he said.
Schultz, who was offered $40 million in cash and stock to take the CEO job in November, swiftly instituted a management shakeup and announced plans to reorganize Teva's generic and branded drug businesses into a single, streamlined entity. On Thursday sent a letter to Netanyahu apologizing for the company's predicament and pledging to keep its headquarters in Israel.
Before it's here, it's on the Bloomberg Terminal.
LEARN MORE