May's Brexit Strategy Faces Challenges Both From EU, Home
By
Foreign Secretary to advocate for 'liberal Brexit,' Times says

Prime Minister says she won't be derailed after agreement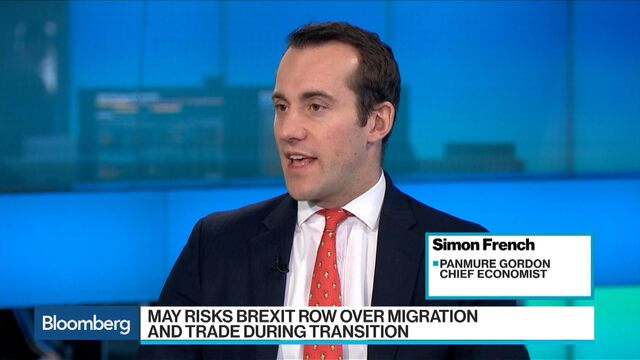 U.K. Prime Minister Theresa May's Brexit strategy faced new challenges Sunday as Foreign Secretary Boris Johnson made a fresh intervention in the debate while comments by the European Union's chief negotiator Michel Barnier may chill hopes for any bespoke deal.
Johnson called for a "liberal Brexit" in an interview with the Sunday Times newspaper, as he said the advantages of leaving haven't been properly outlined for the public. He said the U.K. must strike a trade deal that gives it the power to discard EU laws and failure to do so would render Britain a "vassal state" of Brussels.
His comments undermine a fragile truce that May struck with her warring cabinet in making a deal with the EU this month to move talks onto trade. May is trying to balance the demands of Brexit supporters such as Johnson against those in her party pushing for a closer relationship with the bloc, who helped inflict a defeat on the government last week in a vote on Brexit legislation.
May, writing in the Sunday Telegraph newspaper, said she won't be derailed in her strategy and noted she silenced doubters by securing an agreement in the first stage of negotiations. Talks will now begin "immediately" on agreeing the implementation period, she said. This period will be strictly time limited and is likely to last for about two years, she has said previously.
Britain will use the time to keep relations essentially unchanged, Chancellor of the Exchequer Philip Hammond said on Saturday. "We won't technically or legally be in the customs union or in the single market, but we're committed, as a result of the agreement we made this week, to creating an environment which will effectively replicate the current status quo," he said.
Cabinet Division
That may concern more hardline supporters of Brexit. The U.K. can't do "proper free trade deals" with other countries if it fails to get an agreement that allows divergence from EU laws, Johnson said, adding he was planning an intervention on the issue this week. The cabinet will next meet on Tuesday.
Barnier, in an interview with Prospect magazine that was conducted in the days before last week's summit, reiterated that the EU won't agree to a more favorable deal with the U.K. than it has with any other countries.
"They have to realize there won't be any cherry picking," he said. "We won't mix up the various scenarios to create a specific one and accommodate their wishes, mixing, for instance, the advantages of the Norwegian model, member of the single market, with the simple requirements of the Canadian one. No way. They have to face the consequences of their own decision."
Even so, Minister of State for Immigration Brandon Lewis backed May's position in a Sky News interview, saying last week's agreement was "something many doubters thought wasn't possible. She's delivered on that. We are delivering Brexit."
In an example of the policy challenges from the split that lie ahead, a parliamentary committee warned that the effectiveness of U.K. sanctions will be undermined post Brexit unless it can quickly agree arrangements for future policy co-operation with the EU. Otherwise, Britain could be left with the choice of imposing less effective unilateral sanctions or aligning with those of the bloc, having no influence over them.
Before it's here, it's on the Bloomberg Terminal.
LEARN MORE