Billionaire Pinera Sweeps to Victory in Chile Run-Off Election
By and
Former president has 54.6%, with 98.4% of the ballots counted

Pinera reverts weaker-than-expected performance in first round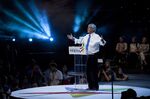 Billionaire Sebastian Pinera swept to victory in the second round of Chile's presidential election, winning by a wider than expected margin, after pledging to reverse four years of sluggish economic growth. Stocks are likely to rally Monday.
Former President Pinera had 54.6 percent of the vote with 98.4 percent of the ballots counted, the electoral service said on its website Sunday. Alejandro Guillier, the candidate for the ruling coalition, had 45.4 percent.

Pinera has pledged a respite for industry after four years of the most radical reforms in three decades under President Michelle Bachelet, including increased corporate taxes and moves to empower labor unions. As the campaign progressed, he moved toward the center ground, even pledging to expand Bachelet's flagship project of free higher education, while warning that Guillier threatened Chile's economic stability.
"My rival knew how to adopt our flags," Guillier said after conceding defeat. "Chile has changed and that change is forever. But we have to be self-critical; we have received a hard defeat."
Pinera has said his administration will more than double economic growth, create 600,000 jobs, ease industry regulations and narrow the budget deficit. It is his pro-business agenda that helped push the benchmark IPSA stock index to a record high before the first round of voting.

"It looks like becoming the biggest margin of victory for a right wing government in recent history," said Kenneth Bunker, director of the electoral program at the Universidad Central. Still, "Pinera will face a very fragmented Congress. He will be a moderate leader with no legislative majority."
Pinera's pro-business approach and his track record of faster growth in his first term could add 0.6 percent to growth compared with Guillier, said Sebastian Edwards, a professor at University of California at Los Angeles.
Before it's here, it's on the Bloomberg Terminal.
LEARN MORE