Business
The Force Is Strong in British Film. Brexit Opens the Dark Side
After years of prosperity, U.K. moviemakers are worried about staffing.
By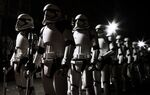 Chiara Costantino moved to London from her native Italy four years ago seeking a job as a computer effects artist for films. Today she works at an animation shop called Jellyfish Pictures where she most recently created explosions and the Millennium Falcon's jumps to light-speed in "Star Wars: The Last Jedi," the likely blockbuster that opened this week. Even though she's prospered from the move, Costantino says that after Britain voted to leave the European Union, she wouldn't recommend that friends follow her. "I don't tell people to come," says the 30-year-old with dyed-white hair and a nose-ring. "I can't assure them it will be the same as when I got here."
While Britain's movie industry is unquestionably booming, a big part of the prosperity can be attributed to the country's position as part of the larger European film business—and Brexit could threaten that. It's not uncommon for cast and crew to quickly shuttle to locations across Europe—parts of "The Last Jedi" were filmed in Ireland and Croatia—a practice that might be undermined by new visa restrictions or bureaucratic processes. And British producers enjoy EU financing to get projects off the ground as well as marketing support for their films on the Continent, benefits that would likely evaporate after Brexit.

Rebecca O'Brien, producer of "I, Daniel Blake," which won the top honor at the Cannes Film Festival last year, says pulling it together without Europe would have been a "nightmare." Without European backing, "the budget would've been severely cut," she says.
U.K. spending on feature film productions has doubled over the last 10 years, to 1.6 billion pounds in 2016, the British Film Institute reports. The Harry Potter and James Bond franchises have long been based out of the U.K., and this year's hit "Paddington 2" was filmed at locations across Britain. The industry directly employs about 80,000 people, up 40 percent since 2010, and contributes 4.3 billion pounds to the economy, according to the BFI.
The biggest concern among producers is staffing. The British Film Institute figures that in the next five years 10,000 skilled people—from make-up artists to carpenters—from outside Britain will be needed to fill new jobs. Brexit will threaten one of the industry's greatest strengths: the ability to assemble a world-class creative team at short notice, says Phil Dobree, chief executive of Jellyfish, where more than 80 of 200 employees are from continental Europe. 
Foreigners "don't feel like there's a future for them here," says Dobree, who says hiring has gotten harder since the Brexit vote. "It's a very, very sad thing for our country."
Like virtually every other British business, the U.K.'s film sector is lobbying the government for access to talent. Ideally, many producers say, Britain would simply avoid imposing any new limits on immigration after breaking ties with the EU, but that seems unlikely given that an end to free movement was a key pledge of the Brexit campaign. 

The British Screen Advisory Council, a lobbying group for the U.K.'s audio-visual sector, is advocating exemptions for companies deemed strategically important or facing particular skills shortages. Immigration restrictions threaten "our position as a world-class location for filming," says Pete Johnson, the council's chief executive. "Those who can help grow sectors of the future are precisely the people we need." 
Adrian Wootton, chief executive of the British Film Commission, a government agency that supports international film-making in the U.K, says the industry's concerns may be overblown. Production in the country will continue to benefit from world-class studios and a deep pool of expertise in everything from finance to set-building to acting, plus a tax scheme that gives producers a 25 percent rebate on money spent making movies in Britain.
"We are by quite a long way one of the healthiest sectors in the whole of the U.K. economy," says Wootton. "Our job is to ensure we keep it that way."
Live-Action Dumbo
So far, Brexit has provided a financial tailwind, with the depreciation of the pound making it cheaper to shoot in Britain: Inward investment in the British film sector jumped 39 percent to 1.6 billion pounds over the first nine months of 2017, the highest on record, according to the BFI. At Pinewood Studios, a sprawl of warehouses in leafy Buckinghamshire 20 miles west of London, Disney's live-action remake of Dumbo has just wrapped shooting and work is starting on the next installment of Star Wars, slated to begin filming there next year.
The currency boost, though, shouldn't be a cause for complacency, cautions Neil Hatton, chief executive of the U.K. Screen Alliance. The global film industry is highly competitive and other countries will look to lure work from Britain, he says. And while Brexit talks appear to have broken out of a deadlock, big questions still remain about what happens on exit day in March 2019. 
"Anyone who builds the success of their industry on the collapse of their own currency is asking for trouble," Hatton says. "Let's not rely on that."
Before it's here, it's on the Bloomberg Terminal.
LEARN MORE