politics
Brexit Date Compromise Could Help Theresa May Avert Another Loss
By
Amendment would grant power to minister and to Parliament

Tory rebels seem satisfied by proposal, according to BBC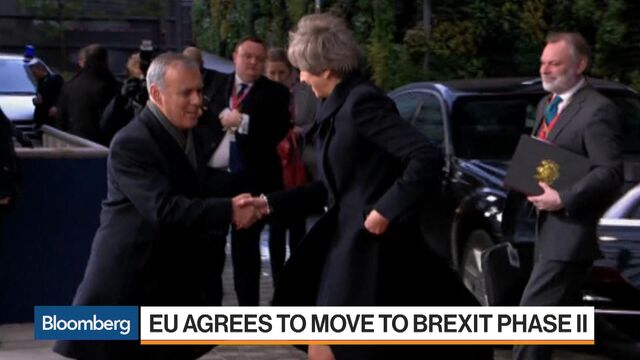 U.K. Prime Minister Theresa May has apparently been thrown a lifeline that could see her avoid another setback in Parliament next week over the date of Britain's withdrawal from the European Union, or Brexit.
After May endured a defeat on Wednesday over the question of what kind of vote Parliament will get on the terms of Brexit, she looked set for another drubbing on Dec. 20 over her plan to write into law the date Britain leaves the EU -- currently set for March 29, 2019. Pro-Europeans in her Conservative Party oppose that on the grounds that it could constrain negotiations even if both sides wanted to extend them.
But an amendment added late on Friday by Tory lawmakers offered her a way out. The proposal, according to a copy tweeted by The Times, is that while the date would still be written into the EU Withdrawal Bill, ministers will also get the power to change it, with Parliamentary approval.
It's a compromise that seems to be satisfying the most prominent Conservative rebels, according to the BBC. While the government made no immediate comment, Chief Whip Julian Smith, responsible for getting the bill through Parliament, did send two cryptic tweets. "Agreeing the date shouldn't be hard," he wrote. "Lot of v positive conversations with colleagues today."
Before it's here, it's on the Bloomberg Terminal.
LEARN MORE