Charted
Big Christmas for U.S. Retailers?
Industry researcher puts sales growth at 5.6 percent this holiday season on spending rebound
By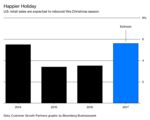 As Nintendo Switch devices and Fingerlings toys fly off the shelves, it's shaping up to be a truly great Christmas for U.S. retailers. Shoppers are seen driving sales up 5.6 percent from 2016 in the start of a "real and sustained rebound," said Craig Johnson, president of Customer Growth Partners. After tracking the 50 largest retailers across 90 major shopping venues, he believes that spending will grow more this season than in any holiday since before the Great Recession began in 2007.
Before it's here, it's on the Bloomberg Terminal.
LEARN MORE